The future allocation
Mirko Visko, managing director of wealth management firm Generation Alfa in Switzerland, talks about wealth and portfolio management.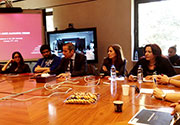 Visko explained that conservative investments now represent much more than they used to.
The collapse of investment banking giant Lehman Brothers in 2008 set off a global recession that has changed the nature of banking and finance forever. Investment banks are now subject to more regulations, certain trading practices have been made illegal, banks are required to have more capital, and the firewall between investment and commercial banking has risen to new heights.
The nature of portfolio management has also changed, and this week, financial expert Mirko Visko, managing director of wealth management firm Generation Alfa in Switzerland, visited LAU Beirut to explain how.
"Investors have become more conservative," says Visko, who is based in Geneva but has clients in Lebanon. "Popular investments now are those that yield dividends and those outside the formal financial markets, such as real estate or property."
Visko explained that conservative investments now makeup 50% of his clients' portfolios, much more than they used to.
The adage of investing is 'diversify, diversify, diversify,' and Visko hammered that point home to a room full of business school students, faculty members and representatives from the business community who attended the lecture, advising "you should have more than 10 different funds in your portfolio."
It's not only important to manage your investments, he says, but to scrutinize those overseeing them. Researching your fund manager's background to see if he or she has put their money in the same funds, or has incentives tied to the performance of your portfolio, is the mark of a responsible investor, he says, as is reviewing their performance through various up and down markets. He also warns against investing funds with more than $2 billion dollars.
Indeed, companies run by families are a safe bet as they have more long-term objectives, whereas those run by shareholders are frequently preoccupied with cost cutting and restructuring. As an example, he cites BMW, a family owned business whose stock is up 30%, versus Renault, a shareholder owned business, whose stock is at historic lows.

Dr. Josiane Fahed-Sreih, director of the Institute of Family and Entrepreneurial Business that hosted the lecture, says when it comes to finance in Lebanon, many businesses are a family affair. "We thought this was important for students to know how to manage their family business and their investments," she said.
For those who are not risk averse, Visko recommends investing in foreign exchange, the best litmus test for a country's overall economic health. "People are getting out of U.S. bonds and into emerging markets such as the BRIC (Brazil, Russia, India, China) economies."
Addressing the students directly, he warned them not to become obsessed with job titles, but to out themselves in a position where they are constantly gaining expertise.
"I learned that investment needs sound decisions, and that not all people succeed," said Sabine Hamoud, a second-year business student who wants to go into management. "And that the spoon doesn't come to your mouth, you have to feed yourself," she added, saying that she planned to study up on some of the financial terms Visko used in the lecture.