The future direction of fashion
Assistant professor Jason Steel launches LAU's innovative new B.A. in Fashion Design in collaboration with Elie Saab.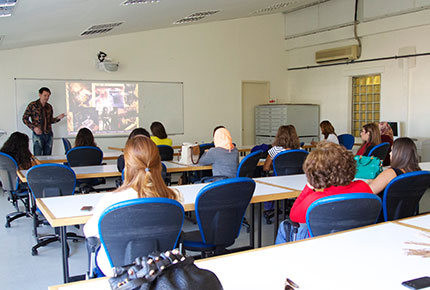 On October 11, Jason Steel, assistant professor at the LAU Bachelor of Arts in Fashion Design in collaboration with Elie Saab, held a workshop to introduce students to the new, highly anticipated program.
The British contemporary artist and fashion academic outlined the core of the broad-reaching course that will cover every aspect of design, ending in a penultimate six outfit collection that will bring together skills learned in concept, color, fabrics, technical drawings and illustrations. Students will also hone their marketing and branding skills by creating a business plan, lookbook, two-minute promotional film and an exhibition stand, all preparing them to work in any design studio around the world.
Steel's teaching philosophy is all about developing students' individual creativity. "During the course I travel on 40 different journeys, helping each of our 40 students find their way forward," he says. Though, for him creativity is a tangible goal for those who put in the effort: "I've found after all my experience teaching in the U.K. and around the world that students respond best to having a great deal of fun with creativity," he said. "It doesn't just come from this blob of consciousness in the universe, everything is a process to something."
Beginning his academic studies at Northumbria University in the North East of England, Steel graduated with a First Class B.A. (Hons) in Design and was then invited to attend the highly acclaimed Royal College of Art in London with a Diana, Princess of Wales Bursary awarded from the British Fashion Council. "I didn't get in because I was talented," Steel said. "I got in because I knew who I was and had a vision for my work. Talent is hard work. I tell my students that I got into a world-class institution because I was focused. They can do it too."
Steel has spent many years delivering a contemporary fashion education to students around the world, teaching in locations as varied as Taipei and Hanoi. During his Friday session he shared examples of some of his previous students' strongest projects and also examples of when fashion goes wrong stressing the idea that fashion is all about understanding the market. "It's fine to be creative but you have to show you have commercial sensibilities," he said. "It's not worth it if your garments go straight in the bin after the catwalk show. They have to be wearable," he added.
To help create a new dialogue of design in the country and graduate the trendsetters of the future is Steel's ultimate aim with LAU's Fashion Design program. "Young people like you need to be driving trends, not just competing against established designers, but offering something new," he told the room full of LAU's first generation of aspiring designers. "You will be the future direction of Lebanon, the region and hopefully the world. It's a big, big vision."