The future stars of computing
Over 60 students take part in annual computer science summer camps.

Lab assistant Rita Saba (left) providing guidance to Michel Bachkhanji, winner of an honorary mention.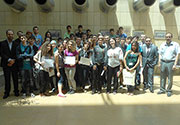 Participants and instructors of the Beirut summer camp gather after the award ceremony where Rania Istanbouli was announced as the first prize winner.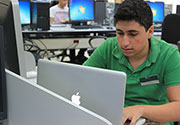 Elias Hebbo, first prize winner in Byblos.
"Great coders are today's rock stars." That quote, from Black Eyed Peas musician Will.i.am, who is these days taking coding classes himself, may well turn the stereotype of the nerdy computer scientist on its head.
With computers, phones and the internet becoming an increasingly normal part of our everyday lives, opportunities for computer literate people to make a name for themselves abound. Just ask Kevin Systrom, who taught himself how to code at night and went on to establish Instagram, the photo sharing app worth $1 billion. Or Ginni Rometty, the first woman president, chair and CEO of IBM. Today, computer scientists are among the most sociable, cutting-edge and successful professionals out there.
This month, 64 high school students from across Lebanon came together at LAU to learn more about the field that Will.i.am and many others find so exciting.
At week-long summer camps at the Beirut and Byblos campuses, students received crash courses in computer programming and coding. They then put their skills to the test with final projects submitted to a jury.
"Our aim is to expose high school students to the field of computer science, which is the main driver of most innovation today," said Dr. Sanaa Sharafeddine, associate professor of computer science and coordinator of the Beirut camp, otherwise known as Learn_Computing@LAU. "Participants learn the basic technical skills needed to pursue their interests, and gain insight into the challenging, creative and fun world of computing."
The camps are not only part of LAU's commitment to give back to society, but are meant to tackle stereotypes about computer science, said Dr. Haidar Harmanani, associate dean of the School of Arts and Sciences and initiator of the Computer Science Summer Institute in Byblos. "We have always felt that the computing field is grossly misunderstood among Lebanese. It's booming abroad but there seems to be little enthusiasm for it here."
The career paths available to computer scientists are virtually limitless: graduates can pioneer life-saving medical technology, connect isolated villages to water or electricity, or create programs that make mundane tasks like grocery shopping or banking easy.
Computer science graduates have a competitive edge in the job market too. According to code.org, a site that teaches coding online, around one million of the top-paying jobs in the U.S. are unfilled because of a serious shortfall in students who know how to code.
Students at Learn_Computing@LAU, which was sponsored by Google, were tasked with creating a functioning website that helps solve an everyday problem. At the Byblos campus Computer Science Summer Institute, which is annually made possible through the generosity of pioneering ex-Google engineer Dr. Georges Harik, the challenge was to teach the students how to design applications for Android. Students at both camps benefitted from mentoring and lectures by experts in mobile and web computing, noted Dr. Danielle Azar, who supervised the organization of both camps.
Marwa Abed Allatif Itani, an eleventh grade student from Al Makassed Ali Bin Abi Taleb College, called the camp in Beirut an "amazing" experience. "I've learned so much about programming languages, which is something I knew very little about prior to attending the camp," she said.
First prize winners, Rania Istanbouli in Beirut and Elias Hebbo in Byblos, won a Samsung Galaxy Note 10.1 and received a significant scholarship offer to study computer science at LAU. Thousands of dollars in other prizes were also given out.
Silicon Valley, pay attention: the next big computer science rock stars may well be coming to you from Beirut or Byblos.