The leaders of tomorrow today
LAU-MEPI TL students celebrate their graduation at a Welcome Alumni Ceremony emphasizing on their leadership skills and civic sensibilities.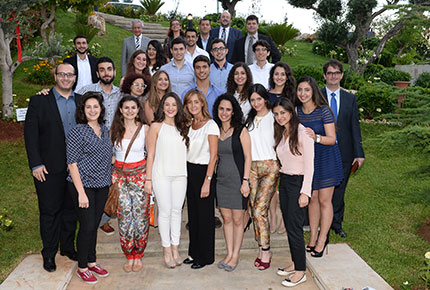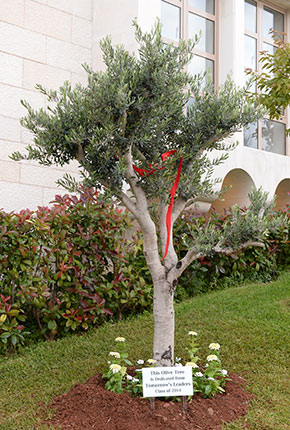 "Monsters" is how Dr. Walid Touma, the University's Enterprise Office Director, described the 20 graduating students of the LAU Middle East Partnership Initiative-Tomorrow's Leaders (LAU-MEPI TL) scholarship program.
On May 20, graduates of the MEPI TL program were celebrated in an Alumni Welcome Ceremony hosted by the Alumni Office on the Byblos campus.
LAU-MEPI TL is managed by the University Enterprise Office (UEO) and funds students from the region – eleven countries are currently represented – to pursue their studies at LAU. Along with housing, internship and study abroad opportunities, the program emphasizes building leadership and social engagement skills.
Touma began the ceremony by boasting that his 'monsters' had "gone beyond the call of duty," expressing his deep pride in their four-year journey to become the leaders of tomorrow.
LAU President Joseph G. Jabbra explained that LAU's values of "the noble notion of service," maturity, confidence and excellence call for leaders "not only of tomorrow, but leaders of today."
MEPI Lebanon Coordinator Erik Ryan echoed Jabbra's sentiments on the need for "leaders of today," adding that a leader is "decisive, must know how to delegate authority to others, and must also have the character to command respect from others. However, above all, a true leader should support the interests of those he leads."
For student Joud Zaumot from Jordan, this experience has taught her to listen, raised her awareness about crucial causes and has helped her contribute to the region, all in her own way. For her senior project she decided to focus on women's rights in the region, advocating for their implementation and enforcement.
Similarly convinced of the importance of civic engagement, Lebanese national Abdelkarim Farroukh explained how LAU trained future leaders like himself to achieve change by focusing their efforts and broadening their intellectual horizons. His senior capstone was directed towards the education of cancer patients.
A second Jordanian graduate, Nour Laswi said, "these four years have been truly great and it has given us an opportunity to expand not only our experiences but shape our personalities. I'm a stronger person – a leader – for having gone through this program."
As the graduates exchanged information about the personal and professional paths they have chosen to follow upon their return to their homes, they were confident that the new academic and non-academic skills they have acquired have equipped them to tackle some of the challenges their countries are facing.
"I really felt the LAU spirit at the ceremony," said Executive Director of the Alumni Relations Office Abdallah Al Khal, adding, "They are so proud to be LAU graduates and we are going to make sure they remain that way."