The many paths travelled by LAU's graphic design grads
Thirty design alumni exhibit their works on the Beirut campus.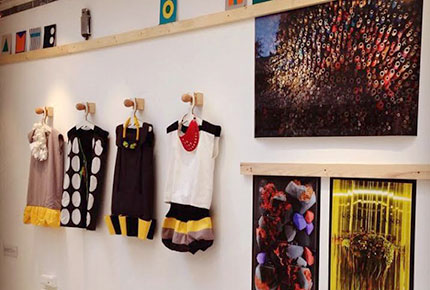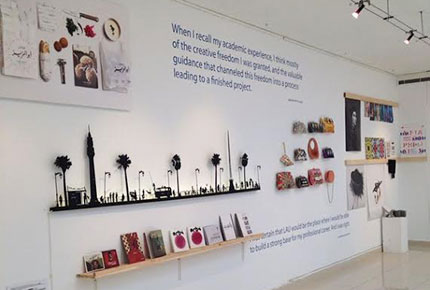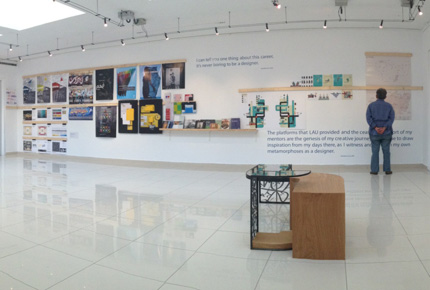 Metamorphosis is a befitting name for an exhibition of work by graduates of LAU's design department that have found success in a diverse array of professions. The exhibition showcases works from more than thirty alumni, some of whom graduated from Beirut University College before it was renamed Lebanese American University in 1994, and who had earned degrees in advertising design before it developed into today's offering of a four-year undergraduate course in graphic design.
The exhibition, which will stay open in the Fine Arts' Sheikh Zayed hall until 14th June, enjoyed a strong launch on Thursday night with alumni, students, faculty and Beirut Design Week guests in attendance.
A year in the making, the exhibition aimed to celebrate the success of the LAU design department and encourage alumni to reconnect with their alma mater. "It was great to see how my peers and I have developed since graduating, when we didn't yet know our style or what we wanted," said exhibiting alumnus Abdallah Hatoum, who creates interior design objects. "Reconnecting felt good and I will be sure to pick up my alumni card now."
The Alumni Relations Office holds an alumni exhibition each year in collaboration with different departments throughout the university's seven schools. "This year the Graphic Design department wanted to showcase their alumni, so we worked on this exhibition together," explained a contented Ghada Majed, associate director of Alumni Relations.
For Dr. Yasmine Taan, chair of the Graphic Design department, "Alumni are the face of our program, our pride and the manifestation of our creative nurturing." She added, "We don't just teach brand development and print design, but rather design thinking. That's why so many of our graphic design graduates have gone on to work in the design of advertising, furniture, packaging, architecture and fashion."
The alumni exhibition includes creations by fashion designer Mira Hayek, who graduated from LAU in 2005. The same department, that of Taan, now oversees the new Bachelor of Arts in Fashion Design in collaboration with ELIE SAAB.
"I realized fashion was my calling while working on fashion illustration during my studies at LAU. I am really honored and grateful to be part of this exhibition. This university was the start of everything I am today. My graphic design degree was a very strong base for my studies in fashion and it's evident in my everyday work," explained Hayek.
Not only were Hayek's creation displayed in the exhibition and the accompanying booklet, but they were also showcased in a dance by current design students at the launch reception.
"Our students were very much involved in the preparation of this exhibition," said Taan proudly. "They brainstormed the overall concept and were actively instrumental in the development and success of the event."
The exhibition will run until 6p.m. on Saturday June 14. Catalogues of the work showcased are available from the design department.