The New York Arabic Orchestra comes to LAU NY
In an impressive display of musical genius, the New York Arabic Orchestra delights the audience with the strains of classical Arabic instruments.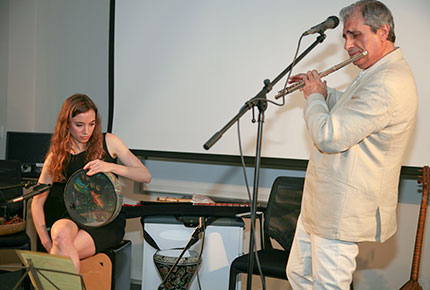 The corridors of LAU NY reverberated with the sweet and sultry sounds of traditional Arabic music on March 11 when the New York Academic Center, in partnership with the Lebanese Consul General in New York, welcomed the founders of the New York Arabic Orchestra for a special evening performance.
Orchestra co-founders Bassam Saba and April Centrone played in front of a sold-out crowd of more than 100 spectators, performing a diverse repertoire of songs that ranged from classical to contemporary, including selections from Farid al-Atrash, Fairuz and Ziad Rahbani, to traditional Arabic-Turkish music such as a longa and a semai in D minor by Mesut Jamil.
They played oud (Middle Eastern lute), nay (Middle Eastern flute), buzuk (lute), riq (tambourine), the western flute and world percussions.
"I grew up in a musical family," says Saba, a virtuoso, celebrated multi-instrumentalist, educator and world-renowned authority on Arabic music. "The accordion was my first instrument, then the oud, the violin and the nay. The flute became my specialty later."
Saba's and Centrone's performance exhibited a rare talent for mastering so many instruments. Their duet was an impressive display of musical genius, as the pair seamlessly switched from one instrument to the next, improvising as they went along, and transfixing the audience in a way only classical Arabic music can.
"I was a drummer since I was nine, I played jazz and rock, but I was searching for some emotional expression, something I couldn't put my finger on," says Centrone, one of the leading classical Arabic percussionists in the U.S.
The turning point in Centrone's career came at age 20 when she happened upon a performance by Palestinian oud player Simon Shaheen. She took up the oud and percussion, listening and watching the masters like Saba perform. It was during a lesson with him that the idea for the New York Arabic Orchestra was hatched.
"Through the orchestra, we are working to create an institutional establishment, a place where anyone who wants to learn Arabic music can. It's important to promote yourself through your culture, and not let the media dictate who you are … art always gives a pure and honest picture of the society it comes from," says Saba, who is Lebanese. "When I came to the U.S., music curricula were very limited. My colleagues and I worked hard to promote Arabic music, and give it a place not only in education, but also at festivals and prestigious venues such as Carnegie Hall and Lincoln Center."
LAU NY is helping to push that exposure one step further. "By offering arts and culture from the Arab world, we are working to create a positive image of the region, to help build bridges between East and West," says Academic Executive Director Lina Beydoun.
After all, who knows how many other Americans, like Centrone, will discover a passion for an art with centuries-old roots spanning Persia, Turkey, Andalucía and beyond. "You will never hear such richness and depth in any music tradition in the world," Centrone says. "Western music always resolves, but Arabic music pulls and pushes. Interestingly, in Arabic culture, you have the same push and pull, versus the emphasis on instant gratification in the western world."
NYAO comprises 40 musicians in total, hailing from multiple cultural, musical and educational backgrounds. Not only do they perform, but they also provide rigorous training to their members and run a multi-faceted outreach program which includes music classes, workshops, youth programs and more.