The Power of PLAY in professional and daily life
Interactive workshop led by alumnus Mahmoud Natout demonstrates the importance of play for mental and psychological growth.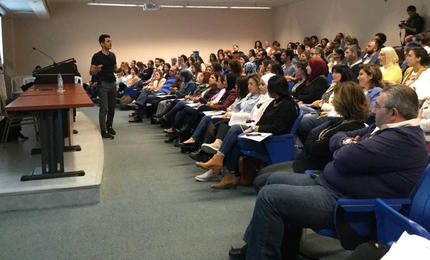 As part of the "Keep Learning" alumni lectures program, more than 170 alumni and friends engaged in "serious play" during "The Power of PLAY in professional and daily life" workshop conducted by alumnus and LAU Instructor in Education Mahmoud Natout (B.A. '04), on November 10 at the Adnan Kassar School of Business.
Hosted by the Alumni Relations Office, the "Keep Learning" series consists of several lectures on topics suggested by alumni, "to keep them stimulated, and help them develop their personal and professional skills," says Assistant Vice President for Alumni Relations Abdallah Al Khal.
A co-founder of L3b (play) — dedicated to harnessing the power of play to unlock human potential for innovation — Natout is an accomplished educator, scholar and trainer, who holds a B.A. in Psychology from LAU and a D. Phil. in Teacher Education and Professional Development from Oxford. He has worked for the UNICEF and the Ministry of Education and Higher Education, among others.
Natout set the tone for the evening by immediately involving the audience in a game, asking them to respond with movement and sound if the answer to any of his questions was in the affirmative. Attendees came from all walks of life, with several in the design and architecture industries, marketeers, as well as teachers, therapists and business students.
The talk rested on four principles: that play is not just for children, that it increases productivitiy, benefits lifelong learning, and keeps one young forever. The audience learned how play can facilitate an altered state of behaviour, which leads to a much higher chance of conflict resolution — often observed in animals — through role reversal or a show of vulnerability.
Explaining that play can rewire the brain to the extent that pain thresholds are higher and the effect of fear is lessened, Natout demonstrated how stimulating play in children can lead to multiple benefits. "Play helps the brain to continue to grow, even when environmental stimuli are not present," he said.
Natout went on to describe properties and forms of play. His ability to draw in the audience with a combination of personal anecdotes and examples from the natural world created a heightened sense of relevance and eagerness to learn, evidenced by the size of the crowd that lingered long after the talk had ended. Several of the questions put forward revolved around recommended screen time for children, and ways to introduce any element of play into traditional industry sectors, such as accounting.
Mike Ayvazian, an expressive art therapist and theater instructor, heard about Natout's talk by chance from a forwarded message. "As a theater tutor, I allow the students to play and I can see the benefits, and as an expressive arts therapist I use a lot of storytelling techniques and role play to create new scenarios. It was enlightening to learn about the concepts underlying my observations." Ayvazian said he was happy to find someone like Natout who has studied play in this fashion, and was looking forward to future events by LAU.
Abed el Izmirli, a senior marketing and banking director and LAU alumnus (B.A. '08), attended the worskhop to gain insight into the principles behind gamification, a technique he uses to increase customer satisfaction and loyalty. "These types of events are really helpful to alumni who are working, even if you've gained several years of experience, because you can keep up to date with the latest developments and research," he said, praising Natout's professionalism and the lecture, which he remarked, was on a par with international conferences he had attended.