The secret to success lies in serving others
LAU President Dr. Joseph G. Jabbra links philanthropy with success during a talk sponsored by the Alumni Relations Office's "Keep Learning" lecture series.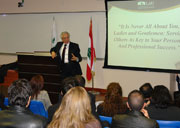 Dr. Jabbra shares his personal and professional experiences in serving others with members of the LAU community.

Jabbra touches upon potential obstacles, including internal struggles, which can hinder our paths to success.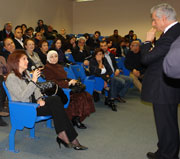 Nuwar Diab, assistant professor of English and applied linguistics at LAU Beirut, asks a question after the lecture.
Click on any photo above to view larger versions of the images.
Alumni, students, and faculty braved wintry conditions to hear LAU President Dr. Joseph G. Jabbra present his altruistically themed lecture "It is Never All About You, Ladies and Gentlemen: Serving others as key to your personal and professional success," at the Beirut campus in late January. This was the second talk of the 2011-2012 academic year in the Alumni Relations Office's "Keep Learning" lecture series.
"The notion of service is in right now," Jabbra told the crowd, referencing recent memories of American billboards spotlighting the benevolence of Mahatma Gandhi, Mother Teresa, and President John F. Kennedy.
"Service is key to personal success and satisfaction in life," Jabbra said. "Providing value, help, and support to others will provide more spiritual, psychological, financial, and other benefits than any self-improvement concept out there."
He intimated "serious obstacles" that prevent us from realizing our human potential. Determining a "crystal clear" purpose in life, he advised, is the most common stumbling block on the "daunting" road to altruism.
"Purpose requires us to share our skills, to be successful and help others to be successful," he said. Not one to seize the day, Jabbra revealed that adherence to a progressive "personal roadmap" is his yardstick of success.
Individuals without a sense of purpose can descend into "stagnancy," he said, but working harder "to be better human beings" can help enable us to serve others as well as ourselves.
Jabbra also made clear that his commitment to helping others in his personal and professional life has only continued to grow at LAU, where "the notion of service is one of the pillars, not only of the philosophy, but also of the mission" of the institution.
"What made the lecture special is the fact that it perfectly reflected Dr. Jabbra's personality," says Abdallah Al Khal, executive director of LAU's Alumni Relations Office. "The flow of words was so smooth that it seemed as if he was evoking his life experience."
Indeed, the topic really resonated among the attendees, some of whom said they felt compelled to act more philanthropically in the future, while others appreciated confirmation that charity could boost their personal success.
"A lot of people think they have to give just because it's the right thing to do, but it is important to realize that [giving] builds your character and makes you a better person," says Robert Hollback, assistant vice president of Development for North America at LAU.
"The lecture highlighted how to turn the idea of service into a tangible reality," says Abbas Sibai, a 2008 finance and social work graduate who currently heads an educational NGO. "It's not just about moving garbage from the street or helping an elderly person, but how to do this service passionately and professionally," he adds.