The strongest men of LAU flex their muscles, win titles
For three consecutive days in early June, students from both LAU campuses competed for the titles of the "Strongest Man." Organized by Joe Moujaes, Athletics Director in Byblos, the event was a series of competitions that tested participants' strength and endurance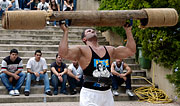 Three-time-in-a-row LAU "Strongest Man" Firas Sarraj Bashi achieves a record high of 65 reps in "the post."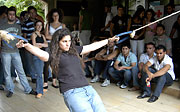 Marise Chemaly resists the 45 kg weight on each side for one minute, 25 seconds.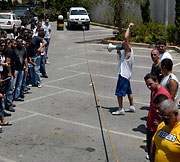 Joe Moujaes times a student pulling the truck.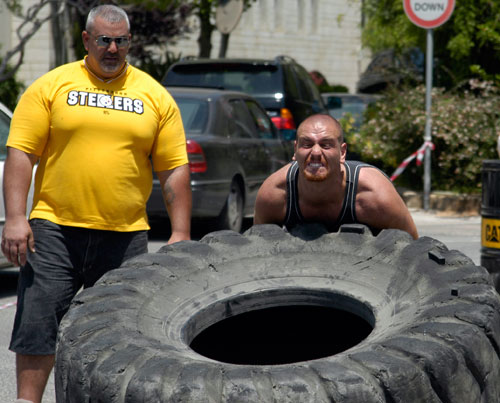 Joe Nassar, who finished second in the "flip-the-wheel" event, under the supervision of Tony Touma, the referee.


The strongest men of LAU with event coordinators from the Athletics Office in Byblos.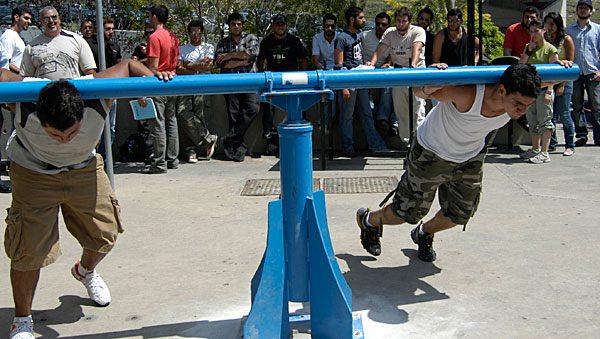 Two participants compete head-to-head in "the merry-go-round."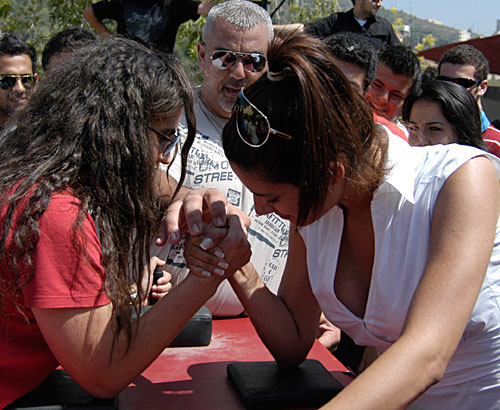 Nadine Njeim competing against Marise Chemaly in the traditional arm-wrestling event.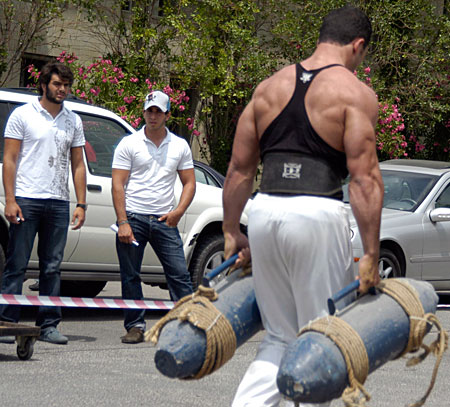 "Farmer race" competition: Sarraj Bashi goes to great lengths to carry 80 kg on each side walking a set distance.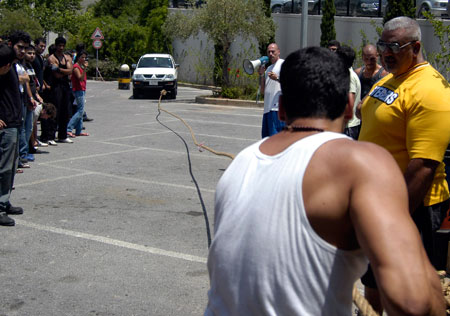 Johan Maksoud, winner of the heavy-weight pulling-the-truck competition.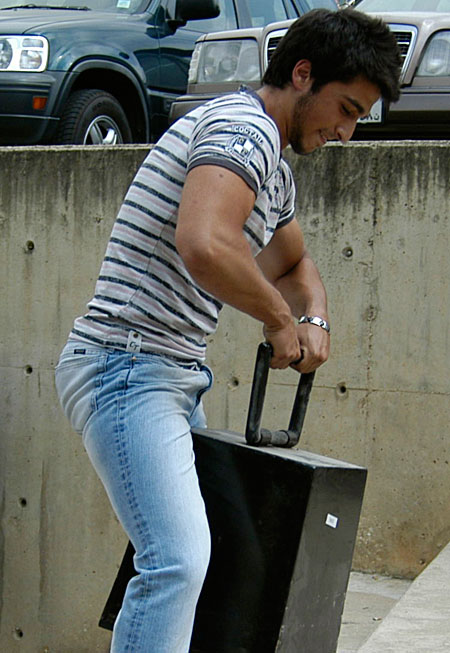 A student climbs stairs while holding a weight in the "power stairs" competition.

Click any image to view all 10 pictures.
For three consecutive days in early June, students from both LAU campuses competed for the titles of the "Strongest Man." Organized by Joe Moujaes, Athletics Director in Byblos, the event was a series of competitions that tested participants' strength and endurance.
Overall nine competitions were held on the Byblos campus: holding up a tree trunk (called "the post"); being timed for pulling up one weight with each hand (called "the resistance"); holding an 80 kg weight in each hand and walking a distance (called "the farmer race"); pulling a truck by a rope; carrying an 80 kg spherical rock from one barrel to another; pushing and pulling a piece of rotating iron in opposite directions (played by teams of two and called "the merry-go-round"); carrying weights while climbing the stairs (called "the power stairs"); arm-wrestling; and flipping a 140 kg wheel four times on different sides (called "flip the wheel").
Each activity was split into different weight categories to ensure fairness: below 80 kg, 80–90 kg, 90–100 kg, and over 100 kg (or open weight). In each of the competitions, participants were given points according to how well they did, and the four winners were revealed by adding the points up.
Moujaes organized the first "Strongest Man" competition in 2002 and said his inspiration for the event came from Scandinavia, where such activities are often held as a form of sports and entertainment. He said he saw how much students were training in the gym and wanted to come up with an event especially for them. A new competition has been added every year in order to "try to make it more hard to compete in," according to Moujaes.
This year, four women participated in the event. Also, a couple of records were set. Johan Maksoud flipped the heavy wheel in 14 seconds and broke the all-time record in that competition. In addition, Firas Sarraj Bashi, a senior business student on the Beirut campus, won the "Strongest Man" title in the open weight category for the third consecutive year. He has been doing bodybuilding for five years and said the sport is not like basketball, soccer or football where one can stop for a while and come back; the athlete must keep working out. He attributed his victories to his genetic properties and daily training. "Not all people can tolerate the time [it takes to train]. You wait a long time and get little results, and often you don't get the results you want," he said.
Because of the intensity of the competitions, a doctor is always present. The contenders are also taught how to compete and how to protect themselves in order to ensure their safety.