The telecom language
LibanCell founder and Comium Group founding chairman Dr. Nizar Dalloul tells the LAU community about future opportunities of social media and telecom.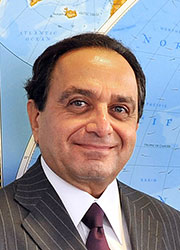 Under Dr. Dalloul's leadership, Comium has become a world-class telecommunications leader, and a premier telecom provider in Africa, with rapidly expanding operations that span five continents.
LAU engineering students, faculty and staff gathered in LAU Byblos Selina Korban Theater on December 12 to attend the lecture conducted by Dr. Nizar Dalloul on social media and telecom.
Dalloul, today chair of Comium Group - a leading telecommunications company - has over two decades of solid achievement in business and the telecom sector. He established Lebanon's first mobile service operator, LibanCell, in 1994.
"Telecommunications is one of the fastest growing and changing sectors in the world as technology and innovation strive to keep up with people's growing needs and interests and their desire to always be connected," says Dalloul.
Hosted by the Department of Electrical and Computer Engineering and in the presence of the School of Engineering Dean Dr. George Nasr, the presentation was divided in two parts. The first half consisted of an exposition of trends in the computer engineering communication sector while in the second half Dalloul opened the floor for questions from the audience.
"It is not any lecture that we attended," says Associate Professor Dr. Iyad Ouaiss. "We were getting first hand experience from someone who, at the top, is dealing with various entities, including government institutions," he adds.
Indeed, the public was bursting with questions and before ending the lecture Dalloul challenged the students by announcing that his company is willing to sponsor the development of telecom software or an application, created through teamwork.
"Students were very excited by the news and went on their way to do more research on some of their unspoken ideas," said Associate Dean Dr. Samer Saab, who coordinated the event. "Dalloul's seminar was truly inspiring for students and faculty alike and suggested a completely different picture of the "real" world of telecommunications," he concluded.
Thanking LAU and the School of Engineering for the successful encounter, Dalloul says, "It has brought back good memories and reinforced my faith in future bright engineers in our profession."