The veil unveiled
LAU co-sponsors New York City interfaith panel discussion on the veil, instigated by the Institute for Women's Studies in the Arab World's traveling photography exhibit.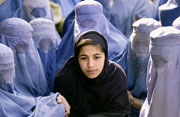 An "unveiled" young Afghan woman waits for her turn to receive food aid among her fully veiled compatriots. Photographer: Emmanuel Dunand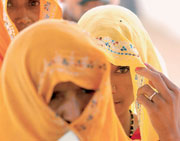 A Rajasthani woman peers out from under her veil as she waits in a line to cast her vote in Dand, on the outskirts of the capital of the Indian state of Rajasthan. Photographer: Prakash Singh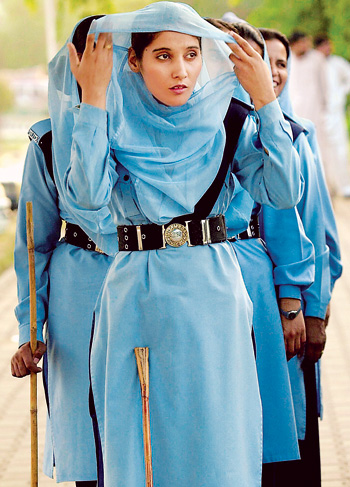 A policewoman, armed with a stick, fixes her veil while monitoring a rally in Islamabad, Pakistan. Photographer: Romeo Gacad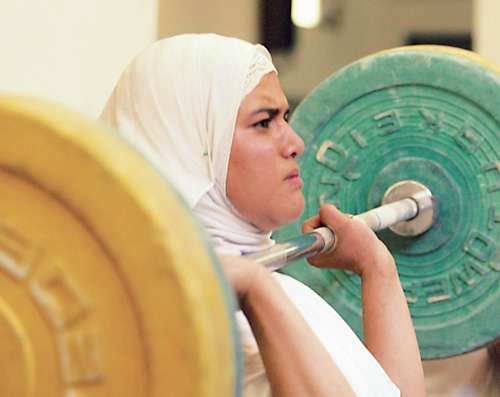 Jordanian orphan Asma Hilal, 15, concentrates during a weightlifting training session in Amman, Jordan. Photographer: Ali Jarekji
Click on any photo above to view all four images.
Against the backdrop of Veil(s): a photographic overview, an exhibit of photographs originally curated by LAU's Institute for Women's Studies in the Arab World (IWSAW), Manhattan's Interchurch Center hosted a panel discussion in December with three veiled women of different religious and cultural backgrounds.
The event was co-sponsored by LAU and Prepare New York, a community-based coalition of interfaith organizations working to counter religious intolerance. The three women — one Christian, one Muslim, and one Jewish — engaged in a candid, freeform discussion about their decision to wear the veil, and what it means to each of them.
Entitled "Three Women, Three Faiths, Three Choices to Cover," the panel was an extension of the exhibit itself, which, according to IWSAW's former director Mona Chemali Khalaf, was designed to help "lead to a better understanding of the universality of the veil," and result in "more genuine freedom of expression and choice." Khalaf produced the original Veil(s) exhibit in 2005.
"The veil is an outward sign of an inward reality, of my dedication to God and my brotherhood," said panelist Sister Chala Marie Hill, a Catholic nun of the Franciscan Handmaids of the Most Pure Heart of Mary in Harlem, New York.
Sister Chala chose her congregation partly because they wore the habit. Sister Chala explained to the audience that wearing the habit, and being recognizable visually as a Catholic nun, has given her the opportunity to publicly minister to people she might not otherwise have reached.
Wearing it has also placed her in a position, she says, where she must address questions and challenges in the public sphere, where the significance of the veil is often ill-understood. She told the audience that this experience has strengthened her faith and improved her ability to help others.
Dr. Sarah Sayeed, a program associate with the Interfaith Center of New York and a veiled Muslim, focused her remarks on addressing what she says is a misconception: that women who wear the veil have no say in the matter.
"The veil doesn't always have one meaning, even for a single individual. Some aspects we like, and some we don't," conceded Dr. Sayeed, who stressed that this doesn't mean that a woman who covers herself isn't free. In fact, she pointed out, many women find the veil to be liberating.
This sentiment was echoed by the third panelist, Mrs. Bronya Shaffer, a scholar with the organization Chabad and a Hasidic Jew who covers her hair.
"There is a misconception that women cover their hair to make themselves unattractive, but this is simply not the case," Mrs. Shaffer said. "In fact I would suggested that most people are decidedly more attractive dressed than undressed," she added, sending a ripple of laughter through the highly engaged audience.
"The Veil(s) exhibit and panel helped provide a window into some of the most misunderstood and mischaracterized faith-based practices in our time," said Prepare New York's Annie Rawlings, who moderated the discussion. "Assumptions abound among people who do not wear any head coverings about those who do — particularly women who do."
Rawlings said the panel and exhibit help to "bring the practice of 'covering', and the voices of the women who choose it, out of the shadows and out of silence," which she described as vital to her organization's mission.
The New York office of LAU, which happens to be located in the Interchurch Center where the event took place, has played an instrumental role in showing the Veil(s) exhibit throughout the United States, including in Connecticut, Washington, D.C. and elsewhere in New York City.
The exhibit will make its next appearance in March in Los Angeles, where it will be accompanied by another panel discussion.