Therapeutic communication
The School of Pharmacy organizes a workshop on effective team building targeting its faculty and staff.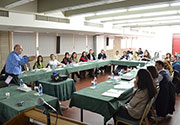 OCE Executive Director Elie Samia addressing the participants.
Click on photo above for larger version.
The School of Pharmacy (SOP), in collaboration with the Outreach and Civic Engagement (OCE) unit, orchestrated a two-day workshop on effective team building on February 5-6 at LAU Byblos. The workshop aimed at fostering leadership, interpersonal communication, and problem solving skills among SOP's faculty and staff members, thus cultivating a spirit of teamwork between the participants.
"Today more than ever, capacity building is of utmost importance," said Dean of SOP Dr. Pierre Zalloua in his opening address. "It strengthens the school's ability to fulfill its mission and enhances the positive impact it has on the community accordingly."
In fact, this event is the first in a series of trainings the school is organizing as part of its continuous education and capacity building initiative.
During the first half of the workshop, Elie Samia, executive director of OCE, tackled the concept of educational leadership, focusing primarily on critical thinking approaches, various leadership and management styles, and how to incentivize students to be more proactive.
The second half of the workshop, moderated by Karam Abi Yazbeck, senior coordinator of leadership and civic engagement at OCE, consisted of a series of six sessions that emphasized the importance of establishing healthy communication in the workplace. These sessions also addressed successful interviewing techniques, effective participation in discussions, the stages of teamwork evolution, and structured approaches for brainstorming and creative problem solving.
Using a hands-on participatory approach, Abi Yazbeck linked theoretical concepts to concrete examples in the workplace, fostering critical thinking and cooperative learning among the participants, who were encouraged to share their own work experiences and success stories.
According to the participants' feedback, the workshop proved to be tremendously beneficial, which was reflected both in their spirited engagement in the training and written evaluations.
"The workshop's rich agenda offered participants the opportunity to engage with each other and achieve the training's set outcomes," said Dr. Aline Saad, chair of SOP's Department of Pharmaceutical Practice.
"Interacting creatively with the SOP faculty and staff has been an enlightening and refreshing experience for all of us," said Samia. "We worked together as a family to better serve — and fulfill the mission of — the university," he added.
Dr. Elise Salem, vice president for Student Development and Enrollment Management, wholeheartedly agrees. "I'm very happy to have witnessed the enthusiasm, creativity, teamwork and humor of our faculty and staff members," she said, before adding, "It's amazing what happens when we are taken out of our comfort zones, and compelled to look at situations from a completely different perspective."
The upcoming workshop dedicated to grant writing will be delivered by Zalloua, a renowned researcher acquainted with successfully submitting grant proposals.