Through a prism, darkly
LAU's major theater production Al Shaghila explores the multiplicity of an artist's identity, ingeniously reworking Edward Albee's Occupant.

Badiaa Nakhle (left) boldly talks about her past to the unnamed interviewer.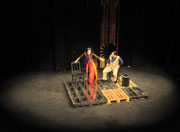 The actors' performances radiate from the simplistic set.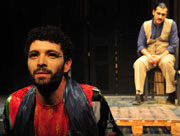 Badiaa Nakhle's masculine side is accentuated through her portrayal by a male actor.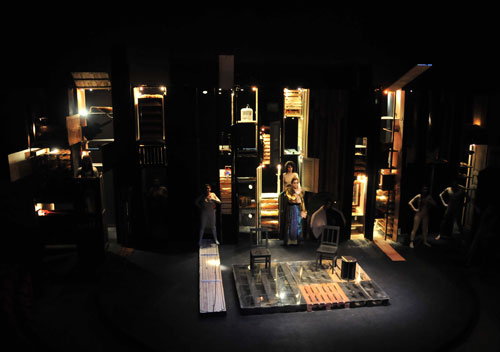 All of Badiaa Nakhle's different sides converge at the end of the play, providing the sculptor with inner peace.
Click on any photo above to view all four images.
"Who are you?" the incognito interviewer asks the specter of Badiaa Nakhle, the fictional Palestinian sculptor and main protagonist of Al Shaghila.
"I am many people," she provocatively replies, her whimsical transparency puzzling her questioner.
Every artist is many-sided, much like a Rubik's cube, says Lina Khoury, stage director and theater instructor in the Department of Communication Arts, and the director of Al Shaghila.
"An artist can be many things and many personages at the same time: creative, rebellious, devilish, good. Versatility is what makes him or her unique," she notes.
Fittingly, Nakhle is portrayed on stage by a number of thespians — including a male actor, in order to shed light on the sculptor's masculine side.
Al Shaghila is based on Edward Albee's play Occupant, which stages an interview with the late American sculptor Louise Nevelson. In Lina Khoury's version, however, Louise Nevelson is transforms into the fictional — and deceased — Badiaa Nakhle, a Palestinian sculptor who grew up in Tripoli, later settling in Beirut.
Like Occupant, Al Shaghila is structured as a posthumous interview with the sculptor, chronicling her endeavors, failures and accomplishments. Badiaa is dead but her wit and sensibility are pungently alive, even effervescent, as she looks back on her life with nostalgia and sporadic regret.
Badiaa's versatility is not only the key to her personality; it also suffuses the roles she takes on in her life. She is a daughter, a mother, a lover, a traveler, and an artist, playing each of these roles with varying degrees of mastery.
"Occupant is a play that addresses an artist's suffering, something we're not very familiar with," says Khoury. We like to focus on the artist's work and fame, but we don't always know much about what's happening inside."
The young Badiaa's inner conflicts are indeed at the core of Al Shaghila, catalyzing her transformation into an accomplished and renowned sculptor. Flamboyant but authentic, Badiaa reflects on love, art, sex and depression with such candor that it's almost impossible for the audience not to identify with her.
"Have you ever lived in the 60's? Have you ever been a Christian Palestinian woman in Lebanon?" Badiaa rhetorically challenges her interviewer. "Then don't talk to me about simplicity."
"All artists go through similar phases in their lives, whether it's depression, promiscuity or the struggle for fame," says Khoury.
"At the same time, I really wanted to create an oppressed character that the audience could connect with — this is why I chose to make Badiaa a Christian Palestinian woman," she adds. "We are all outcasts in one way or another."