Through the prism of fashion education
A snapshot of life at the London College of Fashion.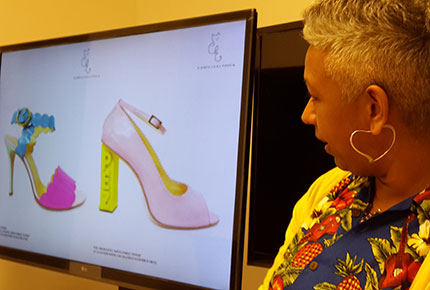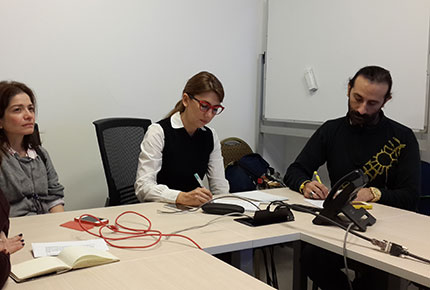 As part of LAU's Bachelor of Arts in Fashion Design in collaboration with Elie Saab, and the recently signed partnership with the renowned London College of Fashion (LCF), the Department of Design invited Claudine Rousseau, the college's fashion sportswear course leader and placement tutor, to deliver a presentation on its education model. The lecture took place at LAU Beirut on January 22.
Rousseau disclosed that there is more than a single path that LCF students may choose to enroll in to specialize in fashion design, whether technical, creative or business oriented.. The curriculum balances knowledge on the context of the industry and technical needs, and covers the whole spectrum from the initial idea to the finished product.
The college pushes the students to be creative and unique while being aware of market demand. "There is no point in delivering what is already on the market," she pointed out.
This echoes the goal of LAU's program that has been tailored according to the students' cultural context, the industry available and the needs of the market. "Students are encouraged to find their own identity while experimenting with unconventional material, fabrics, embroidery and pattern cutting techniques," explained Rousseau.
The presentation raised many questions related to fashion design education and reflected parallel interests with the fashion design program at LAU, such as encouraging students to design with an unconventional approach to fashion. This could mean producing garments for big sizes or changing local perception of fashion being only for women—what of men's fashion—which leads to the question on gendered fashion being valid.
"We aim at teaching the students new approaches in fashion design that go beyond technical illustration based on little doll template, illustrations commonly used in traditional fashion education," stressed Jason Steel, assistant professor.
Throughout the talk Rousseau illustrated the various college programs with examples of the students' work. Chair of the Design Department, Dr. Yasmine Taan was impressed with the unusual method of 'body embellishment' or jewelry created using anything but precious stones. Instead plastic, wood, felt, found objects and the like were put to use.
"I'm all for introducing notions of sustainable fashion into the program," said Taan, "In Lebanon, we might have limited associations or institutions that provide sources for fashion designers, but we will train and encourage students to outsource for their own individual projects, using facilities and sources available in Burj Hammoud for example."
Benchmarking with a leading provider of fashion education LAU team was quite receptive to Rousseau's declaration that "We don't teach students we learn them," adding that independent and peer learning are equally important, as are cross collaborations.
"Fashion is about collaborative efforts, it doesn't happen in isolation," emphasized Rousseau.
Claudine Rousseau is currently in an acting role as program director for the women's wear and jewelry programs.