Reflecting our society
LAU Stage Director and Theater Instructor Lina Khoury presents the 2013 fall major theater production "Rumors".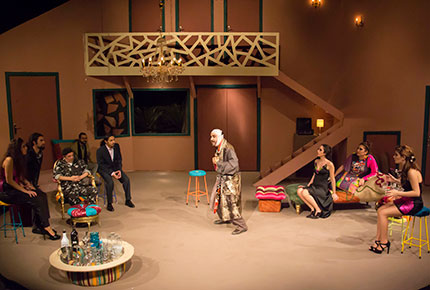 To direct a play, "I have to like it, I even have to fall in love with it", says Lina Khoury, LAU stage director and theater instructor. In the university's fall major production, Khoury went public about her love affair with "Rumors", an original Neil Simon play, which Dr. Ahmad Oueini, associate professor of education, and herself translated into Arabic.
The play's main plot concerns Charlie, a member of parliament, and his wife Mira, who are celebrating their 10th wedding anniversary at their state-of-the-art house. However, to the invitee's dismay, Charlie is lying in bed with a bleeding ear, Mira is nowhere to be seen and for some unknown reason the housekeepers have disappeared. As the evening progresses, the plot unfolds from one highly improbable situation to another. Cars crash, a gun goes off, there are bleeding fingers, a character suddenly becomes deaf, another burns his hand, the last couple to arrive ends up with the boyfriend tearing his date's skirt and to top it all a police man comes to investigate the car crash. Amidst all the mayhem and drama, the characters still manage to gossip about each other and members of their clique.
"I try to take on as many different genres as possible, to expose them to the students," says Khoury. This semester she picked the farce, a comedy in which the plot is extremely implausible and the jokes are crude. This genre, however, maintained its popularity precisely because it can make you laugh. If you were a tad upset upon your arrival to the Gulbenkian Theater, during the play's performance in December, you would have definitely forgotten the state you came in, a few minutes into it. A group of students responded to the play by saying that although it is "not [their] cup of tea, it definitely made [them] laugh".
Indeed, bursts of laughter characterized the performance. The plausibility of the acting, by both students and professionals, had a major impact on the success of the play. All four couples, in Rumors, are convincing in their roles. You will find it difficult not to relate them to somebody you know.
"I also chose this play because it resembles us", the director adds, continuing, "Lebanese love spreading rumors in this country". The characters, in the play, she explains are all "wacko" like us.
In order for the actors to bring out the stereotype in the characters, Khoury gave them Seinfeld, an American sitcom created in the late 80's, as a reference. Seinfeld, the main character, constantly goes through a series of mishaps that are utterly unrealistic. Somehow, you end up believing that everything that has happened to him is real and that's why you laugh.
"I don't speak a word of Arabic, but I understood the whole play thanks to the good acting," said audience member, Helin Ackam.
"I don't want to sound like a teacher, but it is definitely rewarding to work with students,", says Khoury. She goes on to explain that professionals can bring out the character with ease, but students are usually more enthused and progress is much more evident.