Today's farewell to tomorrow's leaders
Friends, family and LAU community members gather to say goodbye to the pioneering MEPI-TL students graduating this year.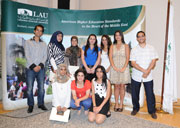 MEPI-TL students currently number 55 and hail from 11 Arab countries.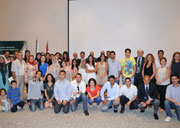 Over the years, the MEPI-TL group has earned a collective reputation for their efforts to help others.
Click on any photo above for larger version.
The students could barely contain themselves, fidgeting, whispering, and ribbing one another during the speeches. The several dozen students studying at LAU as part of the Middle East Partnership Initiative's Tomorrow's Leaders program (MEPI-TL) have bonded tightly over the last few years, gathering formally for the workshops, lectures and ceremonies organized on their behalf, and informally on and off campus.
This gathering was different. They were there not to welcome new additions to the program, but to bid farewell to 12 of their comrades as they prepare to graduate in July and return home. For some, home is just down the coast in Sidon. For others, it is in Yemen, Tunisia, the Palestinian territories, Egypt and other Arab countries they may hardly recognize anymore.
"We are overjoyed to be sharing your achievements with you," said LAU President Dr. Joseph G. Jabbra during the June 13 farewell ceremony in Byblos. "You have all worked so hard to succeed, and we cannot hide how much we'll miss you. Our only consolation is that you are going back to your communities to change them.
"And when you go back," Jabbra added, "don't forget the values you've shown here, particularly that of giving. The most powerful means of changing a society, a community, is to commit to it, and give to that community to improve it."
The first batch of six MEPI-TL students arrived in 2008 as part of the US State-Department-financed program. Now they, and six others who joined the following year, are set to be LAU's first MEPI-TL alumni.
Dr. Walid Touma, director of LAU's University Enterprise Office which oversees the MEPI-TL program, looked at the students with emotion. "You are my leaders," he said. "You have really grown your wings. You don't need us anymore. Your wings will take you on your own journeys."
Wistfulness aside, the event — co-organized by UEO and the Alumni Relations Office — was framed not as a valediction but rather as an "alumni welcoming ceremony."
"When Walid talked to me about organizing a farewell reception for you guys, I said, 'Farewell? We don't do that. We only do welcoming receptions,'" said Abdallah Al Khal, executive director of Alumni Relations. Al Khal ran through a presentation of the benefits of joining the alumni network. "LAU will always be your second home," he said.
Randall Kaailau, MEPI Coordinator at U.S. Embassy Beirut, said that MEPI's mission is to create partnerships in the region and to empower citizens to create more prosperous societies. "I hope what you learned here will help your communities and your region," he concluded by telling the students.
Over the years, the MEPI-TL group has earned a collective reputation for their efforts to help others. One of their earliest campaigns was organized in response to the devastating 2010 earthquake in Haiti; they raised money to contribute to the relief effort. But it was just one of many.
MEPI-TL students currently number 55, including 12 graduating students, and hailing from 11 Arab countries. Each student has a profile on the MEPI-TL website.
"I didn't imagine that I would meet people from Palestine and Yemen and Egypt," said Layla al Bizri, one of the graduating students from Lebanon. "And these aren't the elite. These are people of modest means who share similar ambitions — we all want to help bring about change."
Several of the Lebanese students invited their parents to the ceremony. Mira Daher was one of two students chosen to give a brief speech recounting her experiences since arriving in 2009. After the ceremony, she was embraced by her visibly moved parents, Mona and Wissam.
"We are so happy and proud of them, all of them," Mona said. "It is such a beautiful day. We just hope they all have great futures."