"Tomorrow's Leaders" learn from experts
With roundtable discussions and lectures under their belts, six students from across the region discuss their progress and experiences at LAU.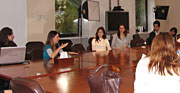 Insan representative Lala Arabian (2nd from left) discusses the importance of leadership skills at the community level.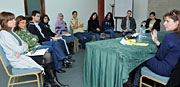 Roula Douglas (1st from right) speaks about her passion for journalism to Tomorrow's Leaders students and coordinators.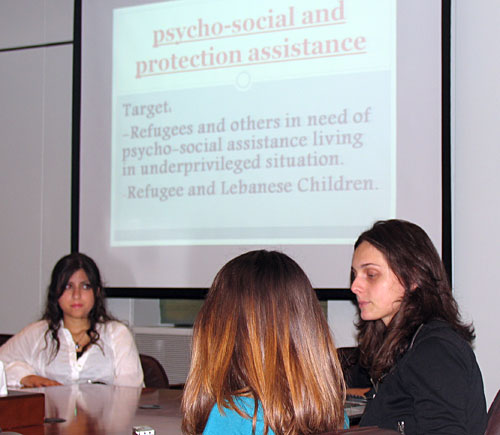 Sarah Rizek (1st from right) explains her role as a psychologist at Insan.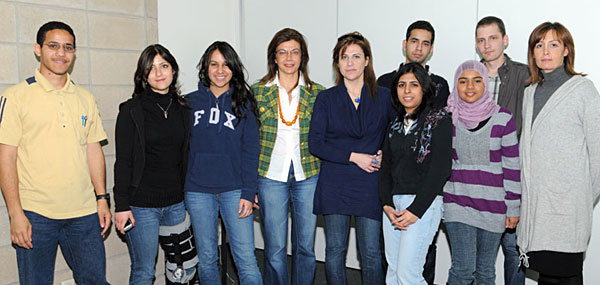 Tomorrow's Leaders students with Loulwa Kaloyeros (4th from left), LAU instructor and academic coordinator for MEPI-TL; journalist Roula Douglas (5th from left); and Rola Nader, administrative assistant at the University Enterprise Office (1st from right).

Click on any photo above to view all four images
Six students from the Middle East and North Africa have made LAU's Byblos campus their temporary home since their arrival in September 2008, and have embarked on events aimed at honing their leadership skills.

They were offered full scholarships and the opportunity to study in an American education system as part of the Tomorrow's Leaders program, a unique academic collaboration involving the U.S. State Department's Middle East Partnership Initiative and LAU's University Enterprise Office.

"This program has already given me a lot," said communication arts major Ahmed Saleh from Egypt. "With the opportunity to be in another country we are gaining the experience to be independent" and assume new responsibilities, he added.

His fellow TL Rana Qudairi, journalism major originally from Palestine, agreed: "We are seeing things never seen before. This experience is making our personalities grow stronger."

TLs are expected to attend seminars and roundtables led by academics, representatives of local and international NGOs, government officials, and business leaders. The aim is to expose them to various issues and give them real-life examples of what they learn in class.

This semester, two such roundtables have taken place.

The first was led by Roula Douglas who was invited to the Byblos campus on March 27 to share her experience as a journalist in Lebanon, after completely changing her career of teaching biology in Canada. Since 2007, she has contributed to journals like L'Hebdo Magazine, Femme Magazine, and L'Orient des Campus.

Douglas discussed her love of words, the significance of freedom of speech and the value of an honest and professional work ethic.

The second roundtable discussion was led by representatives of the Insan Association, a Lebanese non-profit, civil society organization, on April 30, Beirut campus.

Lala Arabian, Insan project coordinator, illustrated the dynamics and methodologies of the association. Founded in 2000 by a group of human rights activists, Insan provides education, housing and social services to refugee and migrant families.

Intrigued by the Insan presenters' example, the students brainstormed ideas on how to establish similar civil organizations in their native countries.

"The program is very helpful [in exposing us to] previous experiences of people, like [those who led] this roundtable. They gave me the idea to implement such programs in my country," said Luqman Yousef, a computer science major from Yemen.

Business management students Arzak Mohammed and Marian Hana, from Yemen and Egypt respectively, said they also wanted use the skills acquired here to benefit their home countries. "The program has given me the chance to become a leader in my field … so I can go back and make a change," said Hana.


---
Read a
previous story on Tomorrow's Leaders program
.