Top prize for LAU at Innovate for Lebanon
Engineering students' win at national competition could spell breakthrough in renewable energy worldwide.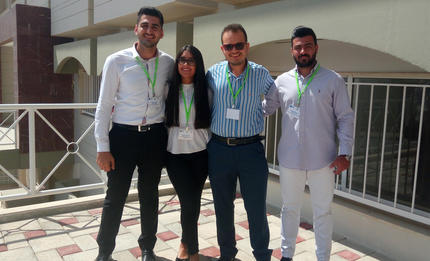 When LAU engineering students took the top coveted prize at a recent national competition, their accomplishment resonated far beyond the walls of the university. "The project addresses worldwide attempts at lowering greenhouse emissions, by boosting the performance of a windmill utilizing totally new concepts," says Associate Professor and Chair of Industrial and Mechanical Engineering Michel Khoury.
A team of four students, co-supervised by Khoury and Associate Professor and Assistant Dean of the LAU School of Engineering Barbar Akle, took part with 60 other teams in Innovate for Lebanon, a contest organized by a consortium of 11 Lebanese universities under the patronage of the Ministry of Education and Higher Education and held at the Islamic University. LAU's entry placed first in the "Renewable Energy" track, one of five areas dedicated to the overall theme of Sustainability.
"The purpose of the event was to motivate Lebanese students to create solutions for the numerous Lebanese problems," says Akle. The LAU team did just that, designing and creating a micro wing vertical axis wind turbine (VAWT), in which existing VAWT designs were optimized in an innovative fashion that should allow turbines across Lebanon to harvest substantially more energy.
"We changed the geometry of the blades during rotation in order to have maximum power performance," explains engineering student Hasan Daher. This process of changing the shape of the blades as they move "is called morphing, and is recently being researched to be used in stealth aircraft," adds his teammate Sara el Koush.
The students achieved their goal of optimizing VAWT efficiency by "using Computational Fluid Mechanics (CFD) codes that were running on our High Performance Computing Cluster," says Akle. "The Morphing Mechanism increased the efficiency of energy harvesting from wind by a factor of 27 percent, which is tremendous."
According to team member Mostafa Baghdadi, the students overcame a theoretical challenge, as the existing literature contained "no proof that the Morphing Blade Turbine would produce higher power." But the students' dedication and willingness to put in sleepless nights led to what "might be the only successful attempt worldwide."
While keeping its potential global implications in mind, the students entered into the spirit of the competition by addressing local Lebanese conditions. Across Europe and the U.S., for example, wind turbines are commonly placed in wide, open fields, and rely on high wind speeds coming from specific directions. However, "our turbine can operate at low wind speeds and accept wind from any direction," says el Koush. "So it can be implemented in the crowded urban areas of our country."
Far from resting on their laurels, the students are preparing to publish the results of their winning project in a top tier academic journal. For their part, the team's supervisors are certain that the experience speaks to the strength of the School of Engineering's curriculum, which provides cutting-edge training in areas crucial to the future of our planet. "This achievement clearly demonstrates the ability of our students to come up with the marriage of multi-disciplinary areas, leading to novel innovative products," says Khoury. Adds Akle, "It is also a manifestation that we are developing better solutions for renewable energy, which is a core tool in solving the climate change issue threatening humanity."