Training future IT specialists
Lebanese high school students attend LAU computer programming camp.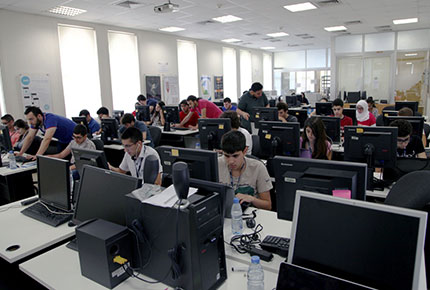 Over 30 students from 25 schools benefitted from a week of intense training in computer programming last week at LAU. The fifth annual summer LAU computer programming camp was sponsored by CCT, the IT subsidiary of construction giant CCC. "The quality of the students in IT has declined since I was a student," says CCC business development manager Aref Abu Alwan, who graduated from LAU with a degree in computer science in 1995. "We sponsored this course to encourage more high-school students to take an interest in IT. More applicants means more competition, which will lead to stronger students and programs."
The camp — run by LAU graduate and staffer Karim Jahed — invited schools to nominate their strongest students for the course. "This year we focused not only on ability but also genuine interest in the field. We are offering prizes and scholarships to those who excel during this week," explained Jahed. The prizes included the latest telecoms devices, for which the trainees spent six intense days developing applications.
"We are teaching the campers Java and Android application development and judge them based on the application they develop by the end of the week. It's intense," said Jahed. "First year university students usually spend a month learning this."
The trainees agreed that the pace and level of difficulty were high. "It's more difficult than I expected, but that's good," said trainee Ali Dbo, adding, "I was motivated to join this camp by the opportunity to learn and to gain a scholarship as I'd like to study here."
Sources of motivation varied among the high school students, most of whom will be applying for college next year. Some wanted to pad their CVs, others were deciding whether computer science would be the right major for them, and some were hoping to win one of the scholarships awarded by the department to the top three performers.
Rania Istanbuli was one of the top three trainees in 2013. She has now completed the first year of a computer science degree at LAU. "I hadn't been considering majoring in computer science before attending the camp as a school student, but the opportunity to explore programming and discover that it was not simply a science but an art made me love it," she enthused.
Camper Ranim Saleh agrees: "It's been a great experience. At school, we're given the information and told to produce something with it, but here we've been working with the instructors to understand the code through trial and error."
The trainees benefited from the knowledge and time of four instructors, of whom three are computer science majors at LAU and one, Ahmad El Nakib, who is a student at McGill University in Canada. "I'm surprised by the level of skill among these students. I would definitely have liked to benefit from such a camp when I was in school."