U.K. fashion academic gives talk at LAU
The Elie Saab Bachelor of Arts in Fashion Design Program hosts a lecture by U.K. fashion academic Jason Steel.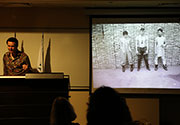 Jason Steel addressing the audience.
Click on photo for larger version.
British fashion academic Jason Steel's lecture on the prospects and challenges of the fashion industry enthused an eager audience on the Beirut campus on May 29.
Hosted by the Bachelor of Arts in Fashion Design in collaboration with Elie Saab, the lecture aimed to acquaint students and faculty alike with fashion education in the U.K. Dispelling common clichés that go hand in hand with the word "fashion," Steel discussed the pertinence of ingenious creativity in helping young designers set themselves apart from the mainstream.
"We all have different ways of looking at the world," Steel said at the onset of the lecture, "and it's important not to feel disheartened if your views don't fit the norm, especially when it comes to fashion," he advised his audience.
A graduate of Northumbria University and a recipient of the British Fashion Council's Diana, Princess of Wales Bursary award, Steel has contributed extensively to the fashion industry all over the world. His latest sartorial embarkment took him to Hanoi, Vietnam, as the director of studies at the London College of Fashion Studies. There, he re-wrote the curriculum changing it from supplying the fashion industry with basic designers, pattern cutters and machinists to enabling graduates to open design led viable businesses.
"You have to always be conscious of your environment whatever it is you're teaching, let alone fashion," said Steel. "You have to tailor your teaching approach to the community you and your students live in — you cannot teach fashion in Hanoi the way you do it in London."
While Hanoian young adults are encouraged to pursue lucrative careers in law, medicine and engineering, the arts and humanities are often looked down on, and a viable career in the fashion industry is seen as a near-impossibility. But one must learn to view ostensible cultural dissonance as a muse rather than a barrier, noted Steel.
Though passion and perseverance are instrumental in forging one's success in the world of fashion, Steel maintains that designers — much like working professionals from any other field — are not exempt from the harsh realities that the global economy is subject to today.
"Fashion is about many things," said Steel, "but it's especially about business. You need to know who you're selling your designs to, otherwise you cannot sustain your own work. You can be the most innovative fashion designer in the world, but you'll still need to have a market."
The Bachelor of Arts in Fashion Design in collaboration with Elie Saab will be launched in the fall of 2013. For more information, please visit http://sard.lau.edu.lb/fd/programs/ba-fashion-design.php