Uncovering the keys to a successful relationship
An audience of alumni, faculty and students discover some of the key criteria to a successful dating or marital relationship during a lecture at LAU Beirut.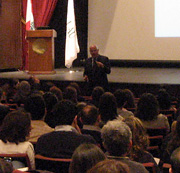 Dr. Raed Mohsen, LAU Beirut's Dean of Students, presents the first part of the alumni lecture series titled "Relationships: Managing Life Partnerships."
Relationships may be hard work, but examining a set of fundamental questions can help make them less stressful and more successful by determining compatibility and longevity. Such was the theme of the lecture by Dr. Raed Mohsen, LAU Beirut's Dean of Students, on January 21.
The packed house of alumni, students and faculty at Irwin Theatre nodded and laughed in approval as Mohsen presented tricky scenarios that many couples encounter.
One of the lecture's sub-headings was "Are similarities a must to become a couple?" Mohsen listed values toward education, money and religious beliefs; differences in academic level and educational style; age difference; and socioeconomic background as things to consider when choosing a partner.
"The answer to the question is yes and no. Sometimes similarities aren't a must, but you should consider the consequences of your differences," he explained.
He asked attendees to consider whether they were dating the right person. "Conflict is inevitable but is it out of control?" he said. "Ask yourself: 'More often than not do I go to bed sad or happy?'"
Mohsen also addressed the following questions: Do you both have similar expectations of the relationship or the marriage? What are the main tips for a wedding reception? Are your honeymoon expectations realistic? How important are trust and respect?
Mohsen has specialized in human communication and marital and family therapy throughout his career. Before being appointed Dean of Students in October 2010, he was the chairman of LAU Beirut's Communication Arts Department and ran a clinical social work practice, counseling adolescents, couples and families. He also had a tri-weekly morning television segment addressing social, marital and familial issues.
The lecture was part one of a two-part series titled "Relationships: Managing Life Partnerships," organized by LAU's Alumni Relations Office as part of its "Keep Learning" lectures program for alumni and the rest of the LAU community.
"'Relationships' is an attractive and popular topic, and very much demanded based on our alumni surveys," says Ghada Majed, assistant director of Alumni Relations.
"Our main goal is for alumni to benefit from these lectures both in their social and professional lives," she adds.
Mohsen will present the second part of the series on Friday, February 25, at Irwin Hall Theatre, Beirut campus, from 6:30 till 8:00 p.m. Learn more about the second lecture.