Upgrading the technology of teaching
Visiting lecturer Mary Burns highlights the importance of technological innovation in the field of education.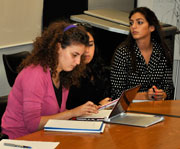 Students from the Department of Education attending the lecture.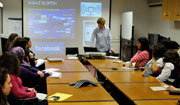 Mary Burns introducing the audience to different applications and new technology tools.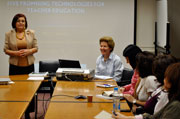 Dr. Iman Osta introducing Mary Burns to the audience.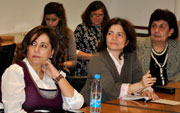 Filling the gap between "technology natives" and "technology immigrants".
Click on any photo above to view all four images.
New technologies in the field of education are fast becoming promising tools for developing teachers' professional skills, according to an education technology specialist who spoke at LAU Beirut on November 10.
Mary Burns, a senior technology specialist at the global nonprofit Education Development Center (EDC), spoke to some 30 LAU education students, teachers and education specialists about the growing use of new technologies in the field of education, including Internet Protocol Television, virtual worlds, online videos, social media and mobile technologies.
"We are moving away from the traditional workshop model, and entering a more personalized and collaborative world," said Burns.
Burns illustrated her talk with examples of projects EDC has successfully implemented in several developing countries. She introduced the audience to a number of applications, websites and other high-tech tools currently used by teachers around the world.
The event was organized by Dr. Iman Osta, associate professor of math and computer education and chair of LAU's Department of Education. "Our students are natives in the world of technology, and forums like this offer a great opportunity to motivate them," she says.
Osta says her department is looking forward to consolidating the technology component of its programs.
According to recent statistics published by Grunwald Associates, a market research and consulting firm, 43 percent of students on U.S. campuses believe their institution needs more technology. Statistics also show that students tend to learn more efficiently in "blended learning" environments, where traditional pedagogy is mixed with a technologically mediated approach.
"I look at the internet, Facebook, Twitter and my mobile phone — things we use everyday for personal issues — differently now," says education major Nisrine Yamout, 19. "I feel very enthusiastic about using these as tools to serve my major and later improve my professional skills," she adds.
Yamout and others were particularly attracted to simulated environment programs, such as Second Life, simSchool, and TEACHME, which educators can use to practice classroom-management techniques and build their confidence in teaching.
"These help learners hone their technical, creative, and problem-solving skills," Burns explained.
Video is used mainly for co-teaching, individual support (through "virtual bug in the ear" technology, which allows remote educational professionals to give real-time advice to teachers in class) and instructional modeling. Social media, on the other hand, facilitate professional exchanges and help build new communities.
According to Burns, however, the greatest promise lies in mobile technology, "As prices drop and telecommunications improve, this tool has the biggest potential for teachers," she said, pointing out that online courses are increasingly accessible through smartphones.
"Many tools and applications presented were totally new to us," says Bassem Kandil, instructor in LAU's Department of Education. "I am more curious than ever to evaluate their potential, put them to use and pass on the skills to our students."
Burns has been helping the Ministry of Education and Higher Education draft a national strategy to implement information and communications technology in teaching and learning programs.
"Thus far there has been no policy in that respect," says Paulette Assaf, institutional development and information technology specialist at the Ministry of Education, who attended Burns' talk. "We believe that lectures like these drive discussions and energize thinking, in ways that ultimately will help us reach our goal."