Veteran Iraqi journalists get trained at LAU
LAU hosts 11 senior journalists from Northern Iraq for the first comprehensive journalism training course of its kind in the region, from May 9–16.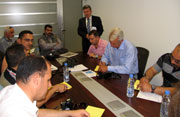 Dr. Mahmoud Tarabay (standing), LAU faculty member, with senior Iraqi journalists participating in a weeklong workshop at LAU, from May 9–16.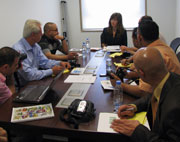 Dr. Dima Dabbous-Sensenig (center), director of LAU's Institute for Women's Studies in the Arab World, gives a presentation about media law during a workshop session on May 12, LAU Beirut.
LAU hosted 11 veteran journalists from Northern Iraq, for the first comprehensive journalism-training course of its kind in the region, from May 9-16 at the Beirut campus.
The workshop, which was eight months in the making, brought together senior Iraqi journalists from different news media, sects and communities.
Several countries and universities were considered for the event, but the U.S. Embassy in Baghdad — which coordinated and sponsored the trip — chose LAU for its up-to-date facilities and media institute TIMTAR, The Institute for Media Training and Research, which led the workshop.
"The idea is to give high-caliber training to senior journalists," says Dr. Mahmoud Tarabay, an LAU faculty member who gave some lectures at the event, which was organized by Dr. Ramez Maluf, chair of LAU's Department of Communication Arts and director of TIMTAR. Tarabay has also trained journalists with the non-profit group International Center for Journalists (ICFJ).
Throughout the week, the Iraqi journalists attended lectures at LAU, shared meals with prominent local journalists, and visited newspapers and television studios, including As-Safir newspaper and Future TV.
The event featured several lectures by Maluf and Tarabay as well as presentations on various topics by guest lecturers.
Dr. Dima Dabbous-Sensenig, LAU communication arts assistant professor and director of the Institute for Women's Studies in the Arab World, talked about the challenges of guaranteeing a free press, legal exceptions to freedom, flaws in media laws, and the problems with different political groups and religious sects applying for licenses.
Throughout her discussion, many of the Iraqis nodded in agreement, having found similar obstacles in their own work, trying to create and maintain a free press in a conflict-ridden society.
Dabbous-Sensenig offered examples of how Lebanese news stations make efforts to include minority languages, such as Armenian. Akram Suleiman from Kurdistan TV who was in attendance said the Iraqi media also struggles to provide news for all of its linguistic minorities, particularly in the North.
Other guest presenters included LAU faculty member Ayman Itani who gave a lecture on digital media; Ghassan Hajjar from An-Nahar who talked about newsroom management; Giselle Khoury from Al-Arabiya who lectured on political talk shows; and LAU faculty member Iman Choucair, who is also a journalist with Al-Mustaqbal newspaper, and Dr. Raed Mohsen, associate professor of communication arts at LAU, who gave presentations on "Training the Trainer."
 
"If you can do it, we can do it"
The journalists expressed enthusiasm at seeing Lebanon, which has endured years of conflict, now enjoying a thriving free press. Throughout the training and lectures, they asked questions and shared some of their own experiences.
One of the participating journalists, Haider Al-Shakh from Alafraa newspaper, said, "The situation in Lebanon was similar to that of Iraq. That's why it's the best place for training."
With specialized classrooms, studios and labs, LAU appeared to have the ideal facilities for the visiting journalists. In addition, the Iraqis benefited from LAU's expert staff from the Department of Communication Arts, with their specific regional knowledge, skills and connections.
Indeed, participants said they were already learning skills that they would take back to Iraq.
Suleiman, from Kurdistan TV, said, "For me, the most useful thing was visiting Future TV. When I get back, everything is going to be different — the editing, the production, the camera system. It's the first time I've seen a studio like that."
The program also included visits to some of Lebanon's attractions, including the Jeita Grotto, the old city of Byblos, and downtown Beirut.
"Outside the classroom, what I hoped to impress most on our visitors was that they should have hope that one day their own cities would thrive," says Maluf. "None of the participants had ever visited Beirut, and when we went on a visit to the city center, they were absolutely amazed at the way that part of Beirut had been rebuilt."
"One of them told me that the only thing he knew of the city center was the pictures of devastation he had seen during the civil war. He had heard that much of the city had been rebuilt but had no idea what it looked like," recalls Maluf. "At the end of the visit he told me that he now believed there was hope for Iraq. 'You had a war for 20 years, and look at your city today. If you can do it, we can do it.'"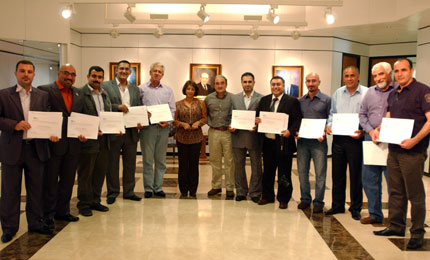 The 11 Iraqi journalists, displaying their certificates of participation, flank event organizer Dr. Ramez Maluf, chair of LAU's Department of Communication Arts and TIMTAR director, and LAU faculty member Iman Choucair, one of the workshop's instructors.