Vote now for LAU student Rania Bou Jaoudeh
The Industrial Engineering student is among the top four candidates of the MBC program Stars of Science.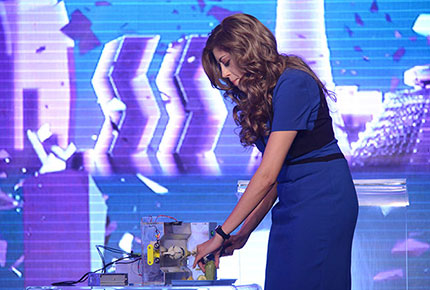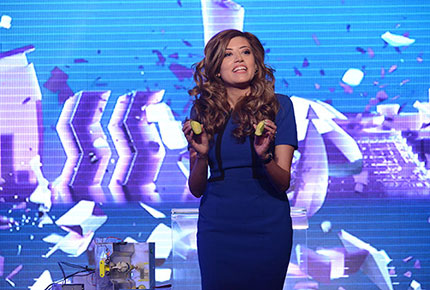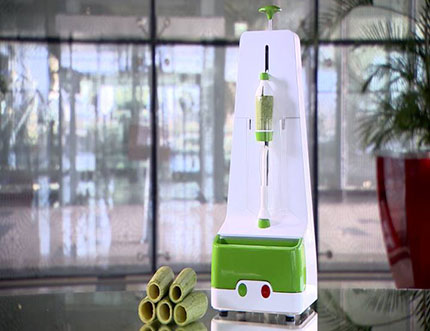 Industrial Engineering student Rania Bou Jaoudeh is among the top four candidates of the MBC program Stars of Science's season six. Bou Jaoudeh spent three months this past summer in Qatar developing her invention — a zucchini corer — and gaining the praise and votes of the panel of judges after the show's engineering and design rounds.
Now, the public's votes will determine who goes home with the show's first prize. Bou Jaoudeh is the only woman in the top four. "I was motivated by Hind Hobeika and her success," says Bou Jaoudeh, referring to the second season contestant who, like Bou Jaoudeh, is Lebanese and was an engineering student when she took part in the Doha-based TV program. After winning third place, Hobeika went on to gain funding to develop her invention further. Bou Jaoudeh's achievement, an automated machine that can core a zucchini in 20 seconds, may well attract the same interest.
"My main motivation was to find an ergonomically sound way to core zucchinis, but with this machine you also save time as you can stuff each zucchini while the next is being cored by the machine," Bou Jaoudeh told the judges during the engineering phase of the reality competition show.
"It was hard work developing the machine. I'm an industrial engineer, not an electronic or mechatronics engineer, so I entered a new field and gained skills I never had before," says Bou Jaoudeh, who was supported in her endeavor by mentors from the program, including Dr. Louai Adhami. "In my major I don't work much with my hands, I work with algorithms and process data. It was a real challenge!"
Bou Jaoudeh's stay in Doha wasn't all engineering and design, though. Early on in the show, she was asked to undergo a series of trust-building challenges. "Rania is a confident woman who is very amiable, but she likes to be in control and needs to learn to trust others more so she can develop as a team player and innovator," explained the show's psychologist Loulwa Kaloyeros.
After successfully completing a challenge that required her to fall backwards blindfolded while trusting others to catch her, Bou Jaoudeh was invited to wear the blindfold again while eating delicacies from around the world. The idea, explained success coach Neil Almond, was to help expand her comfort zone and relinquish control, which would ultimately help her in the lab. "If it will help me, then ok," said Bou Jaoudeh, before proceeding to eat a worm, a cricket, an ant and a scorpion.
Having firmly established her resilience, Bou Jaoudeh worked with teams of specialists at each stage of the development process and ultimately bowled the judges over with both her engineering and design accomplishments and her marketing pitch.
Now, with a fully-functioning ergonomically-friendly zucchini corer, she joins the ranks of Stars of Science finalists. How high up the podium she ends up standing is up to the public, so support her now by sending an SMS with the number 1 to 1084.
Read more about and watch video clips of Rania Bou Jaoudeh and her zucchini corer at the show's website.