"We need an overhaul of Lebanon's housing market!"
LAU Chair of the Economics Department Ghassan Dibeh explains how recent developments in Lebanon's tenancy law and the Central Bank's lending policy will affect the country's real estate market.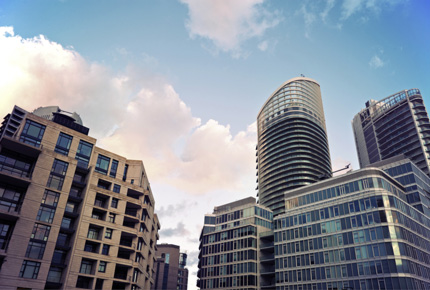 This year Lebanon's government enacted a law that will essentially end the country's 70-year history of rent control. Within the next six years, approximately 150,000 households whose rents are currently fixed under a post-civil war rent control law enacted in 1992 will find themselves having to pay their landlords approximately 2,500% of the rent they currently pay.
The new law is but one factor influencing the country's real estate market and general economic fragility, explains LAU Chair of the Economics Department Ghassan Dibeh.
MarCom: How significant an impact will the phasing out of the old rent have?
Ghassan Dibeh: The concerned properties are mainly concentrated in urban areas, so the increase in supply could be quite significant. But since many of these buildings have been poorly maintained, and because there has been a recent surge in real estate developers' activities, we may see them torn down in order to build luxury buildings. What this country needs is the development of affordable housing for the working and middle classes.
MarCom: Was a change in the rental laws necessary?
Ghassan Dibeh: We currently have two rental systems: a closed lifetime system in the old rental law, and a new system of three-year rental contracts that does not satisfy most people's demand for rental housing. This dual rental system needs to be reformed in an equitable manner, and a new system that promotes longer-term contracts should be enacted. That would also lessen the demand for ownership.
MarCom: Why is it important to lessen demand for property ownership?
Ghassan Dibeh: The insecurity inherent to three-year rental contracts is part of what pushes people toward ownership. Most Lebanese families whose income comes from inside the country cannot afford to buy, so they take out housing loans, the obligations of which make up a high percentage of their income. This system is highly unstable both at the micro (individual) and macro (economy-wide) levels. We need to develop an efficient long-term rental market that would provide an alternative to ownership.
MarCom: Why are banks issuing more loans if the risks are so great?
Ghassan Dibeh: Lebanon has a service-based economy that is highly unproductive. Banks in Lebanon are faced with a dilemma. Deposits are coming into the banking system from foreigners and emigrants working outside Lebanon. The banks pay interest on the deposits so they have to find an outlet for them. In the absence of a vibrant productive economy that is demanding loans from banks, banks have found that the main local outlets for their deposits is housing and consumption loans, in addition to public debt.
MarCom: How fragile are the housing market and Lebanon's economy now?
Ghassan Dibeh: The push toward property ownership creates fragility due to inequalities of income, scarcities of resources and the necessity of financing asset purchases inherent to capitalist economies. Whenever you increase the level of debt — both public but more importantly private debt — you have increased financial fragility in the economy. So as more households obtain housing and consumption loans, this leads to more fragility. This may not manifest itself in crisis as long as incomes are rising so that repayments proceed in an orderly fashion. However, if we have a severe economic, political or security crisis, I think Lebanon may face a financial crisis of extraordinary magnitude, because then we will have a situation in which many people will not be able to pay back their increasing debt obligations. What happened in the U.S. and Europe should be seen as a warning of what can happen in Lebanon.
Ghassan Dibeh is Professor of Economics and Chair of the Department of Economics at LAU. He is also the Editor of Review of Middle East Economics and Finance.