Weathering out the storm
LAU proudly participates in the tenth annual Beirut International Marathon.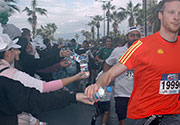 Water bottles lined the route while volunteers dutifully stood by preparing to hand out refreshments to the runners.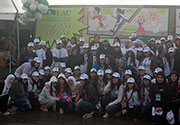 Despite the gloomy weather forecast, LAU made an impressive showing.
Click on any photo above for larger version.
LAU Students, staff and faculty braved heavy rains, thunder and strong winds to participate and cheer on their fellow runners during the annual Beirut International Marathon on November 11.
For the eighth consecutive year, the university set up a stage by the seaside and raised a stage where LAU students entertained with talent shows that helped give an an adrenaline charge of energy into the atmosphere while volunteers dutifully stood by preparing to hand out refreshments to the runners.
"This is by far, one of the most exciting and thrilling events that LAU participates in," says Elie Samia, executive director of LAU's Outreach and Civic Engagement unit (OCE). "Participating in this event demonstrates loyalty and commitment to promoting the civic engagement spirit of LAU," he continues.
"Despite the challenging weather many members of the LAU community came out to participate," says Joseph Kanaan, project coordinator for OCE.
"The rain doesn't matter, what is important is that we showed up as a community," says LAU Byblos student Farah Khater who has run the marathon for three consecutive years. "It shows what we are made of; rain will not stop the Lebanese," Khater says with pride.
Indeed, the marathon has an impressive record of going on as planned in spite of challenging circumstances. Most noteworthy is the 2006 marathon, when a series of socio-political challenges in the country - including a series of assassinations starting with the killing of former Prime Minister Rafik Hariri in 2005 and a war with Israel - 22,000 people participated. A film, "For the Love of Lebanon" was made about the 2006 race focusing on the theme of unity and community cohesiveness.
"This is not just about athletics but is about social change and philanthropy," says the president and creator of the marathon, May Khalil.
The annual event is in its tenth year and is rapidly growing both in ambition and scale - with runners from 96 countries across the world travelling to Beirut to partake in the event.
A strong sense of community and civic responsibility is what the Beirut Marathon intends to cultivate among its participants and spectators—capturing both the vitality and resilience of the city.
As the race wound down, the sun came up—a fitting end for a city famous for, time and time again, being able to weather out the storm.