New beginnings
The School of Arts and Sciences and the School of Architecture and Design hold their commencement exercises in Beirut.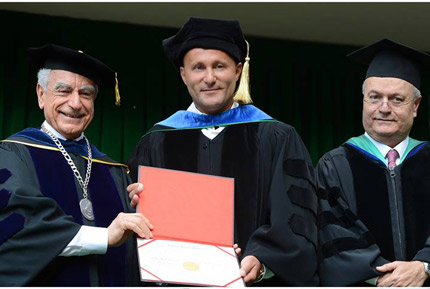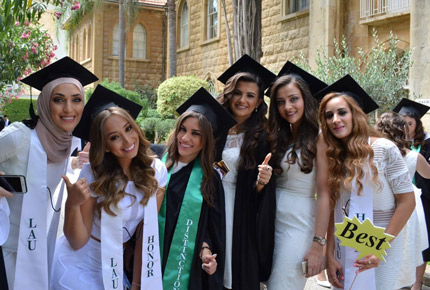 Enveloped in the sweet scent of jasmine flowers, Beirut's class of 2016 marched through the familiar courtyard which for years has been the theater of their joys and sorrows.
The resounding cheers among the crowd of students graduating from the School of Arts and Sciences and the School of Architecture and Design were proof that no reward is greater than one which takes effort to achieve.
"A bittersweet ending is always what marks the end of a great journey," said valedictorian Rana Bou Saada, who graduated in communication with a remarkable GPA of 3.99. "Class 2016, you are now ready to climb the next hill."
This year's commencement ceremony, held in Beirut on June 10, was blessed with an extremely inspiring speech given by entrepreneur Ahmad (Andy) Khawaja, recipient of the Honorary Degree in Humane Letters. Lebanese in origin, Khawaja left the country at the age of 15 in search of a better future. He started as a low-paid teenage worker in supermarkets in Europe and the U.S. and ended up founding a multi-billion company for online services, Allied Wallet.
"I never graduated, even from high school, and my company began as a dream no one―except me―believed in," Khawaja remembered. "Fighting for success is never easy, but you cannot fail if you never give up. The only thing you need to decide is when you will begin making your dream come true."
Beaming with joy and pride, President Joseph G. Jabbra also addressed the students with words of encouragement for the new life challenges that will unfold before them. " May you always find success, happiness, and satisfaction in your future careers… May you have true friends to stand by you, both in joy and in sorrow. May you be ready and willing to help and comfort all who come to you in need."
Under the blessing of the Lebanese flag and the LAU emblem, students marched on stage one by one to receive their well-deserved diplomas, a moment which seals the end of their journey as students and the beginning of their lives as makers of the Lebanese society.