When fashion talks
As a part of Beirut Design Week, LAU's Department of Design's Fashion Design Program hosts panel on the economics of breaking into the fashion industry.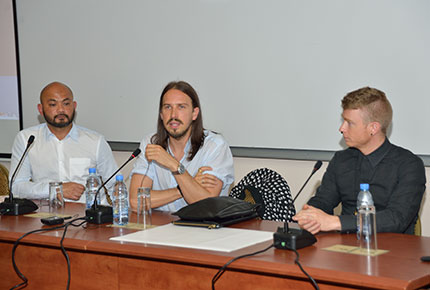 Breaking into the fashion world is often difficult for young designers. In addition to requiring raw talent and access to materials, it also entails access to an elite circle of people — and often a certain degree of money that makes these connections attainable. While aspiring designers from privileged backgrounds can afford the elite education, unpaid internships and showing fees that help them break into this world by ultimately making them the connections they need for recognition, less well-off designers are often shut out before they are even given a chance.
Stefan Siegal — an Italian former model turned entrepreneur — has always been critical of this structure, seeing it as classist and uninviting for young, emerging talent. "I never wanted to accept the fashion world as it is now, a few people who are able to make it work for themselves," he said during LAU's Fashion Talks on June 4, held within the framework of Beirut Design Week. "It was impossible to see how young designers could connect to the world without paying a lot of money."
In his talk, Siegal described how his frustration with the existing state of affairs led him to found Not Just A Label, now one of the most famous global platforms for emerging fashion designers representing over 15,000 designers from 100 countries. In addition to creating a global community of fresh talent, it provides young designers worldwide with exposure and markets, without costing them a thing.
Co-panelists founder and CEO of Fashion Forward Bong Guerrero and independent knitwear designer Kevin Kramp both discussed design and identity, creative inspiration and the potential for regional MENA-based talent to become global competitors.
Guerrero's Dubai-based Fashion Forward is an incubator for local talent that has bourgeoned into a phenomenon at the forefront of the MENA-based fashion landscape. "We have been approached by foreign designers, but so far we have been stubborn and vigilant about saying no," he shared, speaking to the need to prioritize a platform devoted to elevating local, regional talent. "I really believe that big brands will come out of this region, and I have no doubt that many of these brands will be Lebanese," he added.
For his part, Kramp confided that "I'm never inspired, or look to other designers for my own work. Instead I randomly explore ideas that I do not plan on, and cannot predict." The US-born, Italy-based knitwear designer shared his creative process for producing unique, authentic and award-winning knitwear. From inspiration in the streets as ordinary as bicycles locked together with chains, or photographs of interestingly shaped plants, he finds his inspiration in sketching their shapes, textures and patterns that then translate into a final product.
"The creative industry can be an important sector," said Dr. Yasmine Taan, chair of the Department of Design that houses LAU's innovative fashion design B.A. program, as she introduced the panelists. "We are working on improving local fashion production for future exports," she declared, emphasizing the potential role that LAU's current fashion design students and graduates could play in fueling the local and regional creative economy.