When philanthropy and education meet
Gezairi Transport shipping company donates building to LAU as the university acquires the company's headquarters.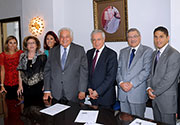 The Bawarshi family with Dr. Raymond Audi and Dr. Jabbra.

The Gezairi premises comprise a main tower-building with a three-floor penthouse, offices, a theater and a school.
Click on any photo above for larger version.
Leading regional shipping company Gezairi Transport has made a generous building donation to LAU following an agreement with the university to procure the rest of the premises.
LAU recently acquired Gezairi Transport's former headquarters, located on Sadat Street in the heart of Beirut's famous Hamra district. It comprises a main building with a three-floor penthouse, a large theater, and offices. The property also includes a school, which Gezairi Transport donated after relocating to Downtown Beirut.
LAU President Dr. Joseph G. Jabbra lauded the acquisition as a "dream come true" and said the gift of the school would help foster a stimulating learning environment for students and faculty alike. "LAU is a student-centered university and it is of the utmost importance for us to give our students the very best facilities that we can," he said. "The Gezairi property provides us with a chance to realize this quest and I couldn't be more delighted by this wonderful opportunity."
The acquisition of the Gezairi Transport headquarters and the school donation come at a time of major institutional growth for LAU.
Demand for an LAU education has increased by 48% over the last decade, with 8,273 students enrolled in fall 2011 compared to 5,572 in 2001. To fulfill the University's promise to provide excellent learning opportunities to the youth of Lebanon, the MENA region and beyond, LAU campuses have grown considerably and two new schools have been inaugurated - the Gilbert and Rose-Marie Chagoury School of Medicine and the Alice Ramez Chagoury School of Nursing.
Facilities across LAU are continuously being upgraded to offer students state-of-the-art laboratories, classrooms, theaters and sports facilities, and to ensure the University remains a regional leader for learning and advancement. The University also recently acquired a three-story building in New York, which will serve as a mini-campus and host programs of interest to American students.
Acquisitions like the Gezairi premises will help keep LAU an attractive institution for students and inspire students and faculty for decades to come, said Jabbra. "Facilities are very important. In the area of Beirut where LAU is, property is also very expensive and scarce. We are therefore overjoyed to have the Gezairi premises so close to our campus." They will be used for classrooms and offices.
"We believe that LAU presented the perfect occasion for us to carry on the legacy of the founder of Gezairi Transport," said Mona Bou Azza Bawarshi, Chairman and CEO of Gezairi Transport. Abdul-Salam Bou Azza Al Gezairi established Gezairi Transport in 1945, which has grown into one of the foremost international freight forwarding and shipping companies in the Arab world. His name will remain on the LAU office building.
Thanking Gezairi Transport, Jabbra noted the company's commitment to education. "They have a passion for education and philanthropy which intersects with our dedication to providing our students with the best education possible and to remain a beacon of knowledge in the region," he said.
The signing ceremony took place in the presence of Dr. Raymond Audi, chairman - general manager of Bank Audi SAL Audi Saradar Grp who is also member of LAU's Board of International Advisors.