When U.S. universities export their education to the Middle East
LAU NY hosts a panel discussion on American higher education in the region.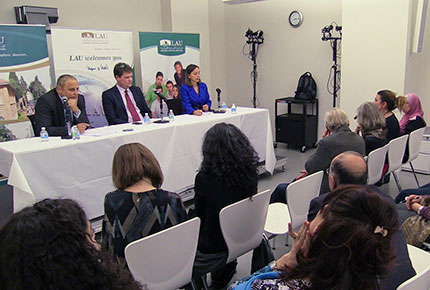 In the past two decades, there has been a significant increase in the presence of U.S. universities and colleges in the Middle East, with many elite schools setting up outposts in the GCC countries.
With a population heavily skewed toward youth, higher education in the Middle East is a target for institutions' global expansion plans. At the same time, a move away from pedagogical learning methods to more interactive teaching styles – the hallmark of American education – has become increasingly appealing and acceptable to governments in the region.
On January 28, LAU NY, in partnership with the American University in Cairo (AUC), hosted a panel discussion entitled "American Higher Education in the Middle East."
It featured Safwan M. Masri, executive vice president for Global Centers and Global Development at Columbia University, and Ted Purinton, dean of the Graduate School of Education at AUC, and was moderated by Lina Beydoun, academic executive director at LAU NY.
Masri and Purinton discussed the merits and challenges of taking a product that is fundamentally American – liberal arts education – and trying to replicate it abroad.
"There's the pursuit of exclusivity in higher education, and having a global presence makes a university exclusive," said Purinton. "Every country wants one of these types of universities, they symbolize modernity … but they are the periphery of education, not the core."
Factors like status, or economic needs of the respective country, have contributed to the proliferation of such schools, paving the way for institutions like Saudi Arabia's King Abdullah University of Science and Technology, for example.
One pitfall of this trend, scholars say, is the conflicting interests and ambitions of Middle Eastern and U.S. educators. Another is the universities' often limited ability to meet the education and job needs of the masses, most of whom cannot afford an elite education.
For his part, Masri elaborated on Columbia's eight global centers, which are extensions of the university aimed at getting its students and faculty engaged in the world.
He gave an example of a Columbia University political science professor, a lecturer in democracy building, who was able to design a unique course that took 15 students from the university, paired with 15 students from AUC, to study democracy building for two weeks in Tunisia and two weeks in Turkey, thanks to Columbia's global centers in those countries.
Masri said that Columbia has purposely stayed away from opening a branch campus in the Middle East, even though the university was asked to do so by several entities.
"It's a very difficult model to sustain. It's difficult to maintain quality faculty and the same level of education," he explained. "After all, part of your experience at Columbia University is what you learn outside the classroom, in the wider campus that is New York City."
Questions were also raised about the long-term sustainability of branch campuses of American institutions, such as Georgetown, Northwestern, Carnegie Mellon, and New York University, and how those outposts compare to historic institutions like LAU, AUB and AUC.