When women write
Center for Lebanese Heritage holds a lecture on Arab women's history in journalism.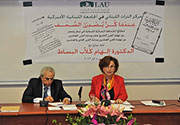 Dr. Elham Kallab Bsat (right) addressing the audience.
Click on photo for larger version.
In prefatory celebration of International Women's Day, the Center for Lebanese Heritage (CLH) at LAU held a lecture on Arab women's contribution to journalism at the turn of the century. The event took place on March 4 on the Beirut campus and was delivered by Lebanese writer Dr. Elham Kallab Bsat.
"Talking about the history of women in journalism is like trying to empty the whole ocean in a seashell," said Bsat at the onset of the forum. "There will always be so much more to talk about, and I can never do these great women justice — but I'm going to try my best," she warned an eager audience.
At the end of the 19th century, the Arab world's polygonal identity was disbanded, to say the least. With various countries in the region still under the mercy of the Ottoman Empire, a great horde of valiant Lebanese — women in particular — yearning for respite immigrated to Egypt. Eluding oppression and seeking latitude, they settled in various cities — including Cairo and Alexandria — and started to contribute to the local journalism scene bit by bit.
"This heartfelt struggle is what engendered the subsequent literary resurgence," said Bsat. "A lot of Lebanese people may have never contributed to journalism if they weren't subject to so much oppression. Men wanted to escape the uncertain political scene; women wanted to escape illiteracy and ignorance."
Al-Hilal, Al-Ahram, and Al-Manar were some of the newspapers that were established in Egypt in the early 1900s, but over 35 equally compelling publications were in print as well, said Bsat, with satirical newspapers being a crowd favorite at the time.
True enough, most of these publications were androcentric, but 1908 marked a timid albeit critical turning point in that respect as the law that prohibited women from contributing to journalism was amended, and women were at last delivered from literary suppression.
In fact, Lebanese journalist Hind Nawfal was the first to publish a monthly journal for women; she called her scholarly offspring Al-Fatat, Arabic for "The Girl." Other Lebanese writers such as May Ziade and Salma Sayegh also wrote and published extensively, the former hosting Salon al-Thulathaa' (Arabic for "The Tuesday Salon"), the most famous literary salon of the Arab world during the 1920s in Cairo.
MBA student Hassan Badran said he was delighted to have attended such a deeply informative event. "The historical facts I learned in this lecture were very new to me," he said. "I pursued my undergraduate studies in engineering in the U.S., so I know very little about women's history, especially in the region. I feel very enlightened."
"We must never forget or underestimate women's invaluable contribution not just to journalism, but to mankind," said CLH Director poet Henri Zogheib. "We wouldn't be where we are today if it weren't for their exemplary achievements."