When words aren't enough: Read the body
Body-language expert Imad Mekahal gives a talk on how we use our bodies to communicate.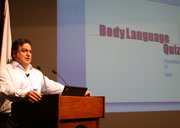 Imad Mekahal, a body-language consultant, demonstrates how a podium creates a barrier between the speaker and the audience, during a lecture organized by LAU's Alumni Relations Office on June 4.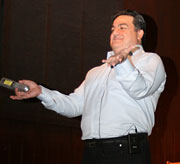 Open hands demonstrate honesty and truthfulness said Mekahal.
"I'm not happy to be here," said Imad Mekahal before starting his presentation entitled "The Essentials of Body Language," at the Irwin Hall Auditorium in LAU Beirut on June 4. So it was his accompanying smile that effectively broke the ice.
"People believe the body more than words," he said, his face giving away his pleasure at presenting the talk organized by the Alumni Relations Office.
During an interactive exchange of ideas with around 150 audience members made up mostly of LAU alumni, Mekahal, a body-language consultant to various public figures, offered advice for improving work and social exchanges.
Beginning with a quiz, he asked the audience a series of questions about body language. Most agreed that eye contact is crucial, people playing with their hands are nervous, and sitting higher than someone else shows dominance.
Other tricks were less common. "If you're trying to sell something, put a cup of coffee in front of the client," advised Mekahal. "You know you have an advantage and they're convinced when they move this barrier aside."
If you want to make a good first impression, maintain eye contact for at least three seconds straight, he advised, and do not hold onto anything — be it keys, a cell phone or worry beads — as this demonstrates a lack of confidence.
Showing a video of former U.S. President Bill Clinton being cross-examined about his then-alleged affair with Monica Lewinsky, Mekahal pointed out the telltale signs of a liar.
Mekahal then played a video by Howcast.com called "How to Detect a Lie." This illustrated eight giveaways: face-touching, erratic eye behavior, unnatural speech, a half-smile, defensive positioning of the body, discomfort caused by pauses in speech by the questioner, hyper-specific fabrication such as mentioning someone's full name, and the elation at having the topic of conversation dropped.
These tips impressed Natalie Mussallem, a senior education student at LAU. "Now I can be a better judge of character," she said.
Alumna Eghar Al-Khadra was happy to learn that sitting at an angle to someone rather than facing them across a table is the best way to reach agreements, and intends to use this in future business meetings.
"I learned that if I want someone to open up to me I need to imitate their actions without them noticing," said alumnus George Melhem, referring to Mekahal's suggestion that breathing, moving and speaking in the same way as the other person will build a rapport within three minutes.
Abdallah Al Khal, director of LAU's Alumni Relations Office, was pleased with the presentation. "We want to help our graduates stay up-to-date," he explained. "If you can master body language, you can send out better messages and better understand people's gestures. It could help you decide what direction to take in a meeting or help close a business deal."