Where lifetime learning begins
State-of-the-art Early Childhood Center opens at LAU Beirut.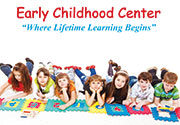 Children are cared for by specially trained teachers in a modern center.
A pioneering center for early childhood education will open its doors on LAU's Beirut campus on May 2.
The Early Childhood Center (ECC) is a state-of-the-art educational facility for children between the ages of two and four that sets pupils on a path of academic distinction. It was originally established in the 1950s as a nursery, providing educational childcare to Lebanese and expatriate families. The premises and curriculum have since undergone drastic transformation to give youngsters the most stimulating education possible at a pivotal time in their cognitive development. Located on the ground floor of Shannon Hall at the Beirut campus, the ECC will accept children of LAU staff and faculty, as well as community members.
The facility, which is the only childhood center in the Arab world within an academic institution, is "not merely an addition to the daycare already available in Beirut, but an optimal learning environment where pupils interact with LAU students and faculty," says Dr. Philippe Frossard, dean of the School of Arts and Sciences.
The colorful space is a place "where lifetime learning begins," says ECC Director Ghina Mounla. Children are cared for by specially trained teachers in a modern center equipped with smart boards and interactive touchscreens, an outdoor playground, and an art atelier. "We use tailored educational techniques that respond to the different ways in which our students learn," she says. The furniture has been specially imported from Europe and the U.S., and all toys and materials are non-toxic.
One of the ECC's defining features is its emphasis on parental involvement. Two observation booths, which are camouflaged as mirrors and equipped with cameras and headphones, allow up to five parents at a time to watch how their children interact. "The fact that you can observe your child means you get a personalized learning environment," says Diala Ammache, an ECC teacher who will enroll her own daughter Lynn at the center. "For me that involvement is very important. You can grasp what triggers your child's attention, what distracts them, and see how they grow."
Sawsan Khanafer, a graduate student who enrolled her daughter at the nursery when she was an undergraduate in the 1990s, recalls how valuable it was to have a secure facility on campus. "I could drop her at the center, attend class and pick her up after. Being on the campus of a reputable university like LAU, in a place where strict international professional standards are upheld, meant I never had to worry about safety, security or credibility."
Applicants can enroll their children on a monthly basis for the months of May and June. The ECC will run an optional summer camp during the months of July and August — another summer camp for children above five will be managed by the Continuing Education Program — and will start operating according to an academic calendar from October 2013 to June 2014.
To learn more about ECC visit: http://sas.lau.edu.lb/institutes/ecc/.