Women in engineering: Challenging but rewarding industry
"Recruitment and Retention of Women in Engineering" project wraps up its activities with two events this month.

Female engineers and engineering faculty working at LAU share their experiences in the field with students, during a Byblos-campus panel discussion on March 17.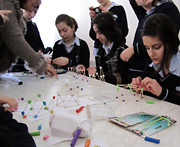 Middle schoolers get a taste of engineering through activities designed by LAU undergraduates during the "Engineer Like Me" event on March 8.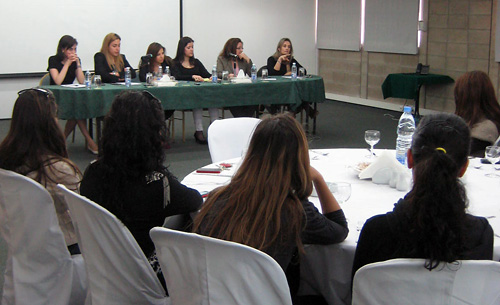 From left: Panelists Dr. Grace Abou-Jaoude Estephan, Mirna Zweif, Dr. Rita Awwad, Abeer Kalawoun, Roula Boustany, and Dr. Pierrette Zouein.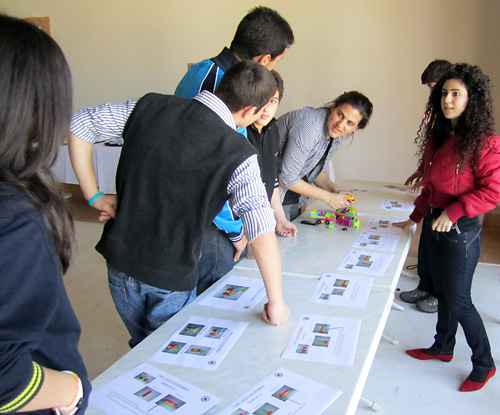 Over 100 middle schoolers participated in the March 8 event held at LAU Byblos.
Click on any photo above to view all four images.
Five female engineers participating in a panel discussion at LAU Byblos on March 17 made no attempts to hide the challenging realities of their job: it's demanding, there is almost no room for error, you are forced to take calls at odd hours, and often work long hours and weekends.
But at the end of the day, their sense of accomplishment trumps the inconveniences, and they wouldn't have it any other way, said the panelists, all employed by LAU, either as engineers or as faculty members at the School of Engineering.
"Being an engineer is not easy. You have to be dedicated and a very hard worker, but it is also rewarding," said Mirna Zweif, an IT engineer at LAU who was tasked with the "Smart Classrooms" project that integrated technological tools into dozens of LAU classrooms to enhance learning.
"With every project you accomplish, you increase your knowledge and skills, and enhance your self-satisfaction and self-appreciation," Zweif added.
The panel discussion, titled "Women Career Development in the Arab World," was the final installment in a string of activities as part of the "Recruitment and Retention of Women in Engineering" project, financed through a $15,000 grant by the Engineering Information Foundation in New York and an additional $10,000 from LAU.
EiF had asked Dr. Grace Abou-Jaoude Estephan, assistant professor at LAU's School of Engineering, to oversee the implementation of the project to turn young women on to engineering.
Abou-Jaoude Estephan says one of their prime achievements was the establishment of the Women in Engineering Club at LAU, to continue the task of engaging women in engineering.
"One of our goals was to initiate the student club so it could continue the work we were doing once the grant ended," explains Abou-Jaoude Estephan, who also moderated the recent panel discussion.
One of the panelists, Dr. Rita Awwad, LAU assistant professor of engineering and an LAU civil engineering graduate, encouraged the LAU students that packed the room to pursue their passions, even if they are different from what their families or friends want.
"If you make a choice, do not regret it, because even if you find out later that this was not the best choice, you still benefit from the experience and it helps you in your future and career," she said.
Abeer Kalawoun, who joined LAU as a campus safety engineer in 2008, told the audience that the learning process for engineers never ends, and said the key to living happily in the field is finding the balance between personal life and work.
Engineering allows you to move easily from one job to another, explained Roula Boustany who worked for 13 years as an electrical consultant before joining LAU as a maintenance manager at the Campus Operations and Maintenance Department.
She added: "It was a great experience proving myself, especially as a fresh female engineering graduate in this male-dominated world, without neglecting my feminism and my dignity."
Dr. Pierrette Zouein, associate professor and chair of LAU's Department of Industrial and Mechanical Engineering, explained how she found herself in the field, expressed deep satisfaction in her work, and emphasized the importance of approaching the industry with confidence.
"Confidence is contagious," she said. "The more you believe in yourself, the more people around you will believe in your capabilities."
In a separate event organized by the Women in Engineering Club on March 8 as part of the same project, 114 eighth graders from five Lebanese middle schools visited LAU Byblos for a lively field trip to learn about opportunities in engineering.
Sarah Hijazi, a third-year civil engineering student and member of the Women in Engineering Club, conducted a presentation during the "Engineer Like Me" event, as it was named, focusing on the role of creativity and innovation in engineering.
Then, the middle schoolers were divided into groups and participated in nine activities designed to teach them about different engineering jobs. The activities were prepared by LAU undergraduate students studying civil, mechanical and industrial engineering.
"The goal of these activities was to give more information about engineering careers in an interactive way to spark the students' imaginations and build their confidence in their potential to seek engineering careers," Abou-Jaoude Estephan says.