Working together to strengthen Lebanon's vital family businesses
LAU's Institute of Family and Entrepreneurial Business at the Adnan Kassar School of Business gathers experts to discuss family wealth management.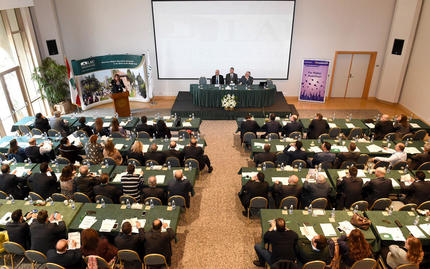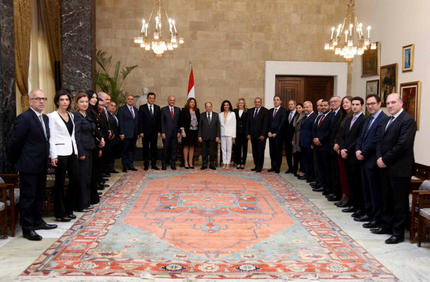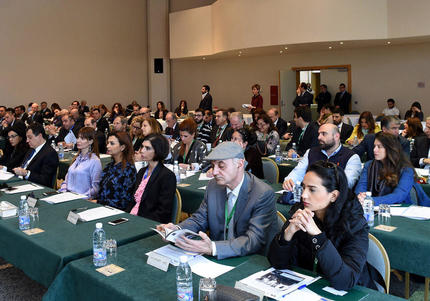 Dozens of founders and shareholders of family businesses, together with experts in business law and wealth management, gathered at LAU Byblos last week for a conference hosted by the university's Institute of Family and Entrepreneurial Business.
"Planning for succession may sound easy but we have found that families face plenty of obstacles," said Director of the Institute Josiane Fahed-Sreih in her welcoming note. "Lack of structure, leadership, and responsibility, as well as entitlement and nepotism," added the associate professor of management, were only a few of the factors that led to the demise of family businesses. "The succession planning process that the family embarks on is more important than the plan itself. It should involve younger family members, and be planned with them and not for them."
With this observation, Fahed-Sreih kicked off the full day conference, held under the patronage of the Minister of Economy & Trade Raed Khoury. The event included presentations by lawyers and bankers as well as personal accounts of co-owners of family businesses.
"Small to medium enterprises make up 95 per cent of our economy and a good portion of those are family-owned businesses," said Assistant General Manager and Head of Multi Family Office and Investment Advisory at Cedrus Bank Emile Albina, speaking on behalf of the minister. "We, therefore, need to ensure the development of a culture of good governance in family business to safeguard continuity." This, he noted, would require a willingness among family business owners to embrace staff empowerment, transparency and structure.
While a number of speakers stressed the importance of formalized governance, President of manufacturing firm Indevco Nehmat Frem brought up another major component. "If, as family members owning a business, you don't have love and shared values, it's not worth making the effort to keep a family business going. It's easier to cash out," said Frem, whose late father, Georges Frem, founded the company and sponsored the Frem Civic Center at which the conference was held.
Fahed-Sreih concurred, adding that data gathered by the Institute showed a correlation between trust within a family and the financial performance of the business, its growh and expansion plans. The oldest such center in Lebanon and the MENA region, the Institute has studied and supported family enterprises since its founding in 2000 as part of the Adnan Kassar School of Business. It has been holding monthly presentations and discussion forums since establishing a network of family businesses in 2012, and has recently launched a certificate program in family business management.
COO of Salam International Investment Ltd., Hussam Abu Issa, spoke candidly about the difficulties his family faced in the management of the business his father had left them. "We, the brothers and heirs, did not agree on the direction the company should be taking," said Abu Issa, who stepped down from his managerial position to avoid conflict before building another company that ultimately merged with the family business. "All but one of third generation members do not want to work in the company. This isn't bad. It's a savior," he said, remarking that many family businesses are now choosing to appoint non-family members in senior management and to the board.
Future Pipe Industries Group, founded by Fouad Makhzoumi, appointed a non-family member as CEO, explained his wife May Makhzoumi, soon after their son passed away. "He was a visionary and breathed new life into the company," she said of Rami, who had been CEO of the company when he died aged 33. Second generation family business owners, she believes, are driven by continuity of the family name and vision more than business success.
Many difficulties, it was suggested, arise when family businesses are inherited by the third generation, especially one that consists of several members and that grew up enjoying the wealth of the business.
Trusts, said Director Wealth Planner at Citibank Richard Masters, were a good way of enabling family members to enjoy the wealth of the business without running the risk of inter-family conflict leading to its dissolution. "People think it's important to own wealth, but owning assets in your personal name creates a lot of problems. What matters is having access to it and control of it," said Masters, expanding on the functionality of trusts.
Such resources, as well as improved education and business acumen, may be why the average life expectancy of a family-owned business has risen from 26 to 60 years in the past two decades.
A delegation from this conference visited Lebanese President Michel Aoun the following day to submit a proposal for better regulations for family businesses.