Working toward countering extremist rhetoric online
LAU hosts a forum tackling militants' use of social media to foment violence and its impact on society and the youth.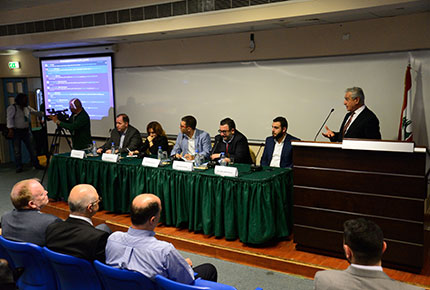 At LAU Beirut on April 15, students, professors and members of the public discussed the role and expectations of youth with regards to violent extremism online.
The overarching focus of the event was ISIS and its use of social media to both recruit and push messaging based on fear, hate and exclusion. "They laid bare our ethnic, religious and social economic differences and are making difference an instrument of conflict and bloody wars," said LAU President Joseph G. Jabbra, welcoming the opportunity for LAU to participate in "making our community and global village better places to live in, now and in the future."
Held in collaboration with the U.S. Embassy in Beirut and media advocacy and development organization Social Media Exchange (SMEX), the forum kicked off with an introduction of the panelists by Advocacy and Policy Director at SMEX Mohamad Najem.
Media instructor at Notre Dame University Rouba El-Helou and Chafic Abdel Rahman, from Tripoli-based NGO Utopia, spoke of their experiences with the poor and fractured communities in Tripoli that were more susceptible to the ISIS narrative.
"Youth in Tripoli are more likely to resort to extremism because unemployment stands at over 50 per cent and one in three children there die at birth," explained Abdel Rahman. Utopia's many initiatives have included a job fair for skilled workers and fostering trust in the Lebanese army. Such community-based activities and organizations, El-Helou believes, are essential to countering extremism. "Othering is a demon. People are simple but afraid, and fears drive them to violence. We must use media platforms to promote grassroots connections and counter walls of separation."
Ali Baskey from the U.S. State Department and Ashraf Zaytoun from Facebook detailed their organizations' efforts to combat ISIS propaganda online. "Countering extremism is a generational struggle," said Baskey, as being labeled an associate or member of ISIS has become "cool" among some youths and communities in the region. "This is how pervasive they are. They're able to subconsciously poison minds globally."
In a bid to tackle ISIS messaging, the U.S. has joined a 66-member coalition, and many member states have set up initiatives or centers nationally, based on their own country dynamics.
According to Zaytoun, civil society and youth are best placed to counter extremism as they are most familiar with and trusted by their local communities. "We at Facebook have a 24/7 enforcement team to respond to threats, but there is an obligation on all of us to address it, which is why we ask users to inform us of suspicious content." In response to a question from the audience, he made it clear that Facebook removes posts and accounts that violate its policy but does not offer monitoring services to law enforcement.
Among the various audience interactions that followed, counterterrorism specialist Talar Demirdjian asked Baskey about the role of Islamophobia and tolerated hate speak in America in propagating extremism. "Political anger, religious extremism, psychological issues … they all contribute. We have in the U.S. a long and sad history of intolerance and it has never helped our country to grow. But today, we are sitting in a university that is reflective of the positive outcomes of partnerships with the U.S. and region."
This forum was part of a three-day symposium during which professionals from the public, private and civil society sectors collaborated in developing an approach to counter the inflammatory rhetoric pushed by militants online.