Workshop calls for exchange of expertise about healthy eating in the region
Experts gathered at LAU to identify the possibilities for addressing nutrition and food safety problems in Lebanon and the Gulf through joint initiatives.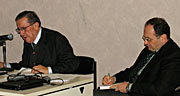 Dr. Adel Cortas (left), LAND president, with Atef W. Idriss, LAND vice president and MEFOSA CEO.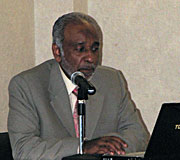 Dr. Abdulrahman Musaiger, assistant secretary-general for Scientific Studies at BCSR and chairman of the Arab Center for Nutrition, speaking about nutrition issues in the Gulf.
Arab consumers are increasingly at risk due to poor eating habits, obesity, and food control weaknesses. Experts discussed the potential dangers and the ways to harmonize Lebanese and Gulf nutrition and dietetics at a workshop held January 9 on LAU's Beirut campus.

Nutrition problems seem to be especially serious in the Gulf, according to Dr. Abdulrahman O. Musaiger, assistant secretary-general for Scientific Studies at the Bahrain Centre for Studies and Research. Musaiger, who is also the chairman of the Arab Center for Nutrition, said that up to 60% of men and 75% of women are overweight in some Gulf countries.

Inactivity and poor eating habits are most to blame, Musaiger said. "The Gulf diet is rich in cholesterol, fat, sodium, sugar and caffeine and low in iron-rich food, fiber, fruits and vegetables," he added.

The Mediterranean diet in Lebanon might be the answer to these problems, according to Dr. Constantine Daher, chair of LAU's Natural Sciences Department. That's why, experts from the Gulf have been trying to learn more about the ingredients of Mediterranean food, he said.

Atef Wafic Idriss, vice president of the Lebanese Association for Nutrition and Dietetics and CEO of the Middle East and North Africa Food Safety Associates, discussed the food safety challenges in MENA countries. He said that the region's promising potential for exporting processed food products often faces strict trade barriers in developed countries.

According to his presentation, "from January to June 2001, 27% of food exports from Egypt, Jordan, Lebanon and Syria to the United States were rejected by USFDA due to non-compliance with the U.S. safety measures (filth, microbiological contamination, greater than permitted levels of pesticide residues or food additives) and 58% due to labeling problems."

Idriss presented some of the most common microbial foodborne pathogens (such as Bacillus cereus, Salmonella, Staphylococcus aureus) and the diseases they might cause. He also listed the food control flaws prevalent in many countries, including outdated food laws, lack of adequately equipped laboratories and trained personnel, and conflict between public health concerns, and trade and industry development needs.

The importance of exchanging know-how to solve some of these issues was tackled during the workshop, which was organized by the Natural Sciences Department in cooperation with LAND and MEFOSA.

According to Daher, universities and research centers in Lebanon and Gulf countries should join forces to conduct studies and increase awareness on nutrition-related issues in their communities.

Idriss recommended establishing regional food safety institutes, increasing collaboration among agro-economic stakeholders in the region, developing a common agricultural policy in the Arab world, and harmonizing food safety standards.

According to Daher, during the workshop some experts also suggested a scholarship program for Lebanese students to study in Gulf universities in order to learn about the particularities of the diets and safety issues in the region.

The scholarship program and the formation of new nutrition, health and food safety experts would benefit the private sector too by providing them with a skilled workforce, said Nada Barakat from MEFOSA's Services and Consultation Department. "We need students to focus on more practical projects, related to private-sector needs, and to write their theses on practical topics, such as Salmonella," she added.