Workshop tackles democratic transitions in the Middle East
LAU and AUC students discuss the role of civility in politics via videoconferencing.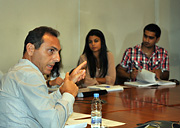 LAU's Dr. Imad Salamey led the dialogue between the two universities.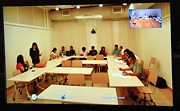 Dr. Mohammad Menza (right) and his AUC class had a round-table discussion with LAU students via videoconferencing.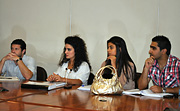 LAU students taking Salamey's graduate seminar this semester took part in the discussion.
Click on any photo above to view all three images.
On October 19 students from LAU Beirut and the American University in Cairo engaged in a round-table discussion on democratic transitions in the Middle East as a result of the Arab Spring. They weren't in the same room, or even the same country, but communicated via a videoconference organized by Dr. Imad Salamey, associate professor of Political Science and International Affairs at LAU Beirut, and Dr. Mohamad Fahmy Menza, lecturer at the AUC, as part of the Global Dialogue Project.
The discussion focused on the concept of civility in politics, and whether it goes against religion and political rule.
While Salamey's class is a graduate seminar focused on democratic transitions in the Middle East, Menza's is comprised of a more diverse group of students whose majors range from political science to engineering and business, adding a miscellany of opinions to the discussion.
"It's good to have a dialogue with people of different opinions. This is the essence of learning," says Menza. "If you have a dialogue with people who have the same opinion, it boils down to no dialogue."
Students from both classes were required to prepare for the videoconference by reading the same articles.
During the videoconference Salamey urged students on both ends not to view the discussion as LAU versus AUC.
There was a consensus among students from both classes that civility holds a non-military connotation, and many agreed that that the respective definitions of 'civility' and 'religion' are not consistent throughout the world.
Complex, open-ended questions such as 'Does civility imply that religion and the state are separate?' were deliberated — and sometimes left unanswered.
The discussion also tackled pluralism in society, with Lebanon being a prime example of consociationalism, whereby each of the nation's 18 coexisting sects are allocated a portion of power.
LAU and AUC students agreed that civility is best built when the state recognizes the different communities that exist within society, thus becoming a manifestation of these communities.
Three dialogue sessions have been scheduled between the two universities for the fall semester, focusing on topics relevant to democratic transitions in the Middle East and the future prospects of state and society.
This occasion marks the second collaboration between the universities; the first took place in August when Menza spoke to Salamey's class of the challenges confronting Egypt in its post-Mubarak transition, also via videoconferencing.
Salamey hopes these round-table discussions can incorporate students from other universities as well.
"Other than AUC, the Richmond International American University in London has expressed interest in exchanging faculty videoconferencing sessions and developing joint student research projects," says Salamey.
"LAU and Richmond IAUL have signed an agreement to foster faculty and students exchange and research collaboration. The International Affairs program at LAU is in the process of developing similar linkage with Adrian College in Michigan," he adds.