WorldMUN offers LAU students realistic understanding of international politics
This year, 20 LAU students went to The Hague to participate in UN simulations with delegates from around the globe.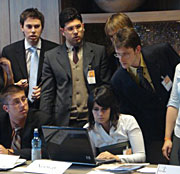 Sara Bitar (in front of the laptop) playing a leading role in the NATO committee.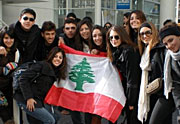 The LAU delegation in The Hague.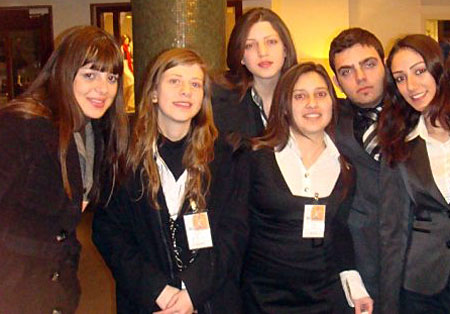 LAU students heading to the closing ceremony. From left: Abir Kashouh, Jana Thoumi, Rindala Mikhael, Gloria Trad, Mazen Abi Saad and Taline Assad.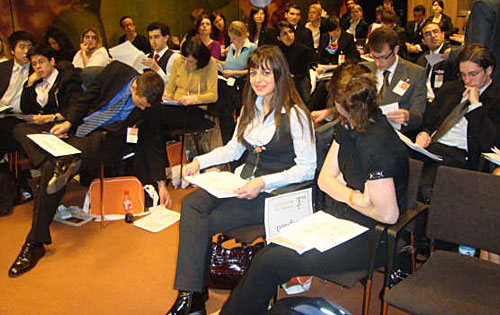 A simulation session in the UNHCR committee.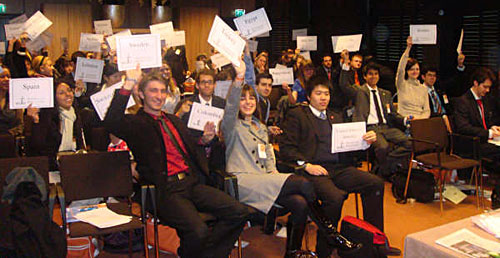 LAU student Abir Kashouh (2nd from left) along with UNHCR delegates vote on a resolution.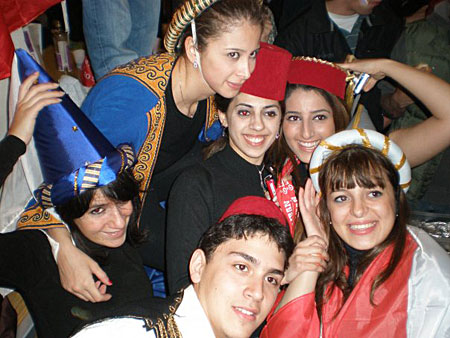 LAU delegates wearing Lebanese traditional costumes during a social gathering.

Click on any photo above to view all seven images
A delegation of 20 LAU students from both campuses had a taste of real-world diplomacy at the Harvard World Model United Nations 2009 conference March 22–27 in The Hague, Netherlands.
The students, who are majoring in international affairs and economics, simulated the work of various UN committees, and acted as ambassadors of Turkey and Samoan Islands, the two countries assigned to them by WorldMUN organizers.
Along with around 2,500 delegates from over 50 countries, the students engaged in negotiations and debates in UN committees and international organizations—UN General Assembly, UN Security Council, NATO, WTO. They discussed and formulated resolutions on major world issues, such as human rights in Tibet, situation in Afghanistan, barriers to free trade, and immigration to Europe.
During the process of achieving consensus, students could "learn the art of bargaining and compromise," said Dr. Walid Moubarak, Arts and Sciences assistant dean in Byblos, who accompanied the students as a faculty advisor. Reaching an agreement "really takes some leadership and openness among students," he added.
"The purpose was to appreciate the UN and how difficult it is within the UN to reach compromise," said Dr. Marwan Rowayheb, assistant professor of political science, who co-supervised the group with Moubarak.
Each "delegate was stubborn on every resolution and we went over every single detail to formulate the right resolution," said Nader Bitar, a freshman student who is planning to major in international affairs. As a participant of the 300-member General Assembly, he wrote 18 clauses of a resolution that was passed at the end of the conference.
Senior international affairs student Sara Bitar said the class discussions at LAU about major powers controlling UN decisions proved to be true. At first, she said she felt helpless as she experienced first-hand how "the U.S. or other major powers could actually veto and bloc certain suggestions."
However, Sara didn't lose confidence. "I was sitting next to an Indian student from <abbr title="London School of Economics and Political Science">LSE</abbr> and a student from [the University of] Oxford, and as an LAU student, I was able not only to compete and work on the same level but also to challenge them with what they were saying," she said. Sara wrote four articles of a NATO resolution.
Months before the conference, Moubarak and Rowayheb trained students on how to write position papers and resolutions. Also, they taught them the rules and procedures of the conference, and provided them with tips on bargaining and negotiation.
This is LAU's eight participation in WorldMUN conferences. This year's delegation consisted of first-time participants, unlike most other delegates who were graduates and had participated before.
Although the delegation was young, "it was very active," Rowayheb said. "In most of the committees, LAU students were playing leading roles," he added.
---
Stories on previous
WMUN
participations: