Writing in an age of tweeting
LAU Beirut hosts the second annual Haas Mroue Creative Writing Workshop.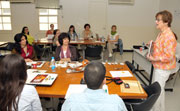 Samira Shami presents participants with Mroue's book of poems, Beirut Seizures, courtesy of Najwa Mounla, the late author's mother.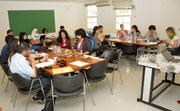 Demand for the workshop was high this year, with many more applicants than open spaces.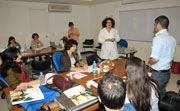 Workshop facilitators Dr. Jenine Abboushi and Dr. Lina Abyad critiqued the work of participants.
Click on any photo above to view all three images.
The Department of Humanities at the School of Arts and Sciences hosted the second annual Haas Mroue Creative Writing Workshop on May 12 on the LAU Beirut campus, bringing together students and faculty from various Lebanese universities as well as interested members of the general public.

The workshop gave participants an opportunity to sharpen their writing skills as they engaged in four creative writing activities: vignettes, travel carnet, portraits, and image and text.
Over the course of the daylong event, participants shared their work and received feedback from the facilitators, Dr. Jenine Abboushi, assistant professor of comparative literature, and Dr. Lina Abyad, playwright and assistant professor of communication arts at LAU Beirut.
"It was a delight to work with writers who really wanted to be there, to experiment —who were willing to take risks, be caught off-guard and inspired by others' creations," said Abboushi.
Samira Shami, a veteran LAU English instructor who coordinated the workshop, cited the complexities of cultivating creative writing in an age of social media and instant communication.
"Technology has both opened up new possibilities for creative writing as well as posed challenges," she added.
Acknowledging that social media can expose writers to a broader audience, Shami has noticed a concomitant decline in serious critical attention allotted to the work of creative writers.
Furthermore, the simplicity of online writing and the prevalence of shorthand communication (sometimes restricted to 140 characters or less) often results in what Shami calls "intellectual laziness," a tendency to sacrifice nuance for brevity.
"People in the digital age tend to be more inclined to 'summing things up' — instead of evoking feeling through ambiguity and contradiction," she mused.
The annual workshop is funded by the Haas H. Mroue Memorial Fund, and held in memory of Haas Mroue, a Lebanese poet and travel writer who died of a heart attack at the age of 41 in 2007.
Mroue is remembered as a poet for his embrace of paradox, and as a person for accepting the strengths and weaknesses of others. Both qualities are actively cultivated by the workshop as creative strengths in budding writers.
"This is a great commemoration of Haas's memory," commented LAU student Nisreen Jaafar. "He is an inspiring individual," she added.
Demand for the workshop was high this year, with many more applicants than open spaces.