Writing in style
The Writing Center hosts a workshop on the fundamentals of APA citation style.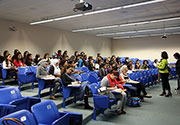 The tutors addressing their audience.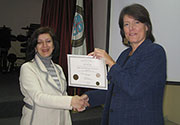 Regional English Language Officer at the U.S. embassy Dr. Ruth Petzold presents Paula Abboud Habre with her certificate.
Click on any photo for larger version.
As the saying goes, "the devil is in the details." And when it comes to accurate reference citations in an academic paper, the Writing Center is particularly detail-oriented which led to the hosting of a workshop on the fundamentals of APA style on February 25.
Tutors Dana Ariss Nasser and Hala Daouk gave thorough step-by-step instructions to a room packed with attentive students. "Since most of the research papers at the university require this style, we realized it would be very beneficial to teach this seminar and refresh students' memories," says Nasser.
APA citation style refers to the rules and conventions established by the American Psychological Association for documenting sources used in a research paper.
Though this might not be the most exciting part of writing a paper it is essential to ensure success in academia where charges of plagiarism are a growing concern. "One of the reasons why we stress the correct application of APA style is to be respectful of copyright laws and the ethics of research," explains Daouk. "Being able to document all sources properly is a key ingredient for success in the research world," echoes Nasser.
The workshop is in step with what the Writing Center refers to as "a mission of creating a culture of writing at the university." Indeed, contributing greatly to that mission is Paula Abboud Habre, a senior instructor of English and the director of the Writing Center.
Habre recently received a certificate from TESOL (Teaching English to Speakers of Other Languages), for a ten-week online teacher-training course entitled: Building Teaching Skills Through the Interactive Web. Habre will soon share her experience and the lessons learned with her colleagues through a workshop she will conduct.
A strong believer in continuous learning, Habre consistently encourages her students to further hone their writing skills and it was unsurprising that many of them attended the event. "This workshop presented a great deal of information in a manner that was effective and not overwhelming," says TOFEL student Amal Tayyouni. "It was very helpful to attend, as it will make research writing so much easier in the future."

The Writing Center was inaugurated in Spring 2010 and is open Monday through Friday from 11a.m.-4 p.m.