Xriss Jor and Quincy Jones
Lebanese singer and LAU Fine Arts graduate, Xriss Jor, tops Dubai Music Week and signs with legendary American producer Quincy Jones' label.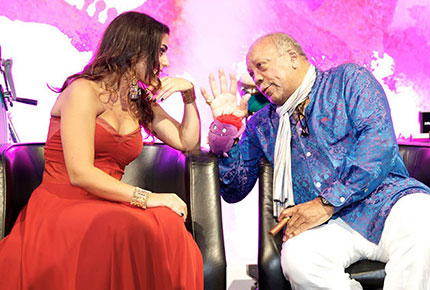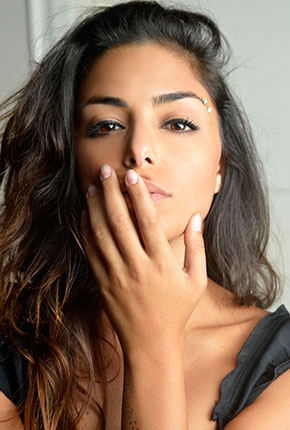 Q&A with artist Xriss Jor conducted by MarCom.
It's been a rather fast-moving few years for you, after Red Bull Music Academy Bass Camp, The Voice and Dubai Music Week. Are you particularly ambitious or did it all happen quite naturally?
Xriss Jor: I am extremely positively driven when it comes to singing and music. Nothing gives me a bigger drive. On the inside, I'm so eager for things to start that I feel like it isn't happening fast enough, but we all know that when it's "easy come, it's easy go"!
How was the experience performing live in front of a panel comprising of Quincy Jones, Will.i.am and Timbaland at Dubai Music week - nerve-wracking?
Xriss Jor: I knew it in my heart of hearts that I was born to do this. Was I anxious? In my view, if you're nervous, you lack self-assurance. Having put so much hard work into it, I wasn't worried about the performance, I had been preparing.
I made sure I chose the right song, dress and attitude because singing isn't just about sounding good. Gotta get those goosebumps poppin'! Just YouTube Susan Boyle's rendition of Wild Horses on America's Got Talent in 2009 you'll know exactly what I'm talking about.
What are your thoughts on the role of TV talent shows as a route into the music industry?
Xriss Jor: After I was discarded, before even reaching the panel of judges at the audition for American Idol 2008, I thought that it was all a big joke. I knew I had it in me and yet why was I cast off? Now I realize that I just wasn't ready.
Being on The Voice gave me the biggest performance platform I'd ever been on. We were watched by millions of people. My fellow contestants and myself were always hoping that this would expose us long enough for someone to see our special spark. A month before the quarterfinals, I met Richard Hussein, the A&R guy at Mindloop Studios. The first time we met, he told me "Aim high and you'll reach! Don't ever forget that," just like in the movies. A year later I was chosen for the Quincy Jones Talent Search at the Dubai Music Week 2013. He was behind it. Again and again, thank you Richard!
In Lebanon and the Middle East it's particularly hard for good western-style singing musicians. It's not how good you are, it's who you know. And that is a sad fact.
Tell us about the collaboration with Quincy Jones - is the musical direction something you're shaping together?
Xriss Jor: The most important factor for me is how the team is so easy to work with. I can be myself with them and say what's in my heart. It's definitely something we're shaping together and we're very excited about this new project.
You've spent a good few years singing as part of a house band in Beirut in places like Iris - was it all worth it?
Xriss Jor: [It was] definitely worth it. I gained a lot of experience and I got to do what I do best: dress up and have a great time doing it. No one has a better job than mine. Some singers just go, do their job and leave. I could never do that. I need to be perfect every single time.
What are your hopes for the future?
Xriss Jor: I hope I can go as far as I possibly can. When I asked Quincy where I was going to be in 10 years, he pointed upwards and started to laugh. He said "All you need is the right song for yourself, but don't worry, we'll get there, I promise!"