Young Enterprise
LAU hosts the sixth annual Injaz Lebanon Company Program National Competition.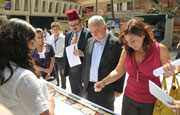 The judges checked the different products displayed in booths on campus.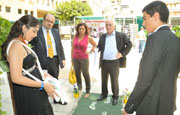 The jury judged each team on marketing acumen, value of product, and sustainability of business model.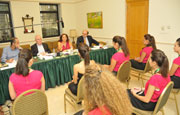 A team of female students presenting their project.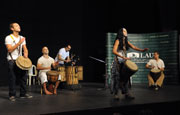 The music band Jebe Bara performed before the announcing of the winners.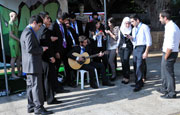 Although the competition was stiff, a festive mood prevailed during the day-long event.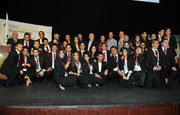 All eight teams were invited back at LAU for a two-day business workshop to take place in the Fall.
Click on any photo above to view all six images.
A sense of competition permeated the air when dozens of young entrepreneurs gathered at LAU Beirut on September 1st for the sixth Injaz Lebanon Company Program Competition.
Dignitaries, faculty, family and friends witnessed eight teams from various Lebanese high schools pitch their business ideas to a panel of jurors in the presence of Central Bank Governor Riad Salameh.
"The best gift in life is the gift of giving—not necessarily money but giving of oneself so that others may have a better opportunity at life," said LAU President Dr. Joseph G. Jabbra as he reaffirmed LAU's role as facilitator in the mission of serving the youth of Lebanon.
Founded in 2001, Injaz Lebanon is a nonprofit non-governmental education program dedicated to empowering youth by providing entrepreneurial opportunities and is supported by well-known leaders of the Lebanese business sector who volunteer their time to serve the community.
"Investing in the youth is investing in the future," says Kamal Katra, chairperson of Injaz Lebanon and vice president of Merrill Lynch/BOA. "One of the main roles of Injaz is to help make a creative and innovative generation."
Conversely, Governor Riad Salameh praised the NGO's efforts in encouraging and strengthening youth reminding them they are important pillars of the economy.
Dr. Said El-Fakhani, dean of LAU School of Business, stressed the importance of fostering innovation and an enterprising spirit among the youth.
"As the largest business school in the Middle East we are shifting the education paradigm to be more inclusive of a curriculum that emphasizes experiential learning," he explained.
"We want our graduates to learn how to create new jobs—jobs of the future."
In preparation of the event, each team was given a stipend of $1,000 and six months to perfect their business plan and create an innovative product, which were proudly displayed at outdoor booths during the daylong conference. Marketing acumen, inherent value of the product and the sustainability of the business model were just a few of the criterion the four-member jury used to select the winning teams.
The panel of judges included well-known entrepreneurs Donald Battal, Michel Daher and Najat Rizk and Dr. Walid Touma, assistant professor at LAU's School of Business. Addressing a captivated audience Touma discussed the importance of perseverance. "Don't give up, win the war in your heart."
"Universities are cradles of entrepreneurship," he continued expressing palpable pride that LAU chaperoned the highly important event.
"I was surprised to see such a high level of professionalism among the competition, it was very inspiring," said 16-year-old Lorenzo Amiooni from Saints Coeurs - Sioufi, member of the team L'Equipe.
Indeed, participants were also provided with insights from successful Lebanese entrepreneurs such as Tony Haddad, the founder of Technica, an automation service for food, beverages and other types of containers.
Haddad's decision to expand his nascent company coincided with Israel's 1982 invasion of Lebanon. Despite the hardship that accompanied the times, he refused to sacrifice accountability. "We never made any excuses. We always delivered on time," he said.
"Don't wait for better times, make the times better."
The conference also included an interactive presentation by laughter yoga instructor Sabine El Jizi and an exhilarating performance by a six-member African music group.
Irwin auditorium erupted in deafening applause when Visio, a company that devised a nationwide recycling plan, was announced as the winner. 16-year-old Ghida Itani from Beirut Baptist School was in charge of Public Relations for Visio and expressed great pride at being part of the winning team."It has been an amazing journey… I gained a real sense of confidence from this competition and I learned a lot about business," she enthused.
All eight teams will be invited back to LAU for a two-day business workshop in the Fall.