A collective success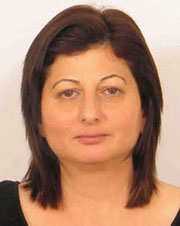 Dr. Nada Saab hopes the performances will contribute to furthering dialogue between the Arab and American publics.
December 14, 2012—
LAU Professor Dr. Nada Saab is part of an international group that has been awarded a $50,000 grant to translate and stage a Syrian play in Beirut and the US, it was recently announced.
Saab, assistant professor of Arabic studies and coordinator of the humanities department's Comparative Literature Program, shares the grant with the Silk Road Rising Theater in Chicago and Robert Myers, a professor of English and creative writing at the American University of Beirut (AUB). They will adapt the play Touqous Al-Isharat wal-Tahawulat (Metamorphosis: Rituals and Signs of Transformations) by the acclaimed Syrian playwright Saadallah Wannus. The grant, made by the MacArthur Foundation, will see the play performed in English for the first time for audiences in Beirut and Chicago.
"We are very happy to receive such a prestigious prize that is generally known to be very competitive," said Saab. "This is one of the most important plays in Arabic literature."
Wannus, who died of cancer in 1997, is generally acknowledged as one of the Arab world's most important contemporary playwrights. The play that Saab and Myers will adapt has been censored in the past because it addresses issues like sexuality, and political and religious hypocrisy.
The play, a French version of which is scheduled to be presented at the Comédie Française early next year, "is an appropriate fit in an era of globalization and in the midst of the Arab Spring," said Dr. Philippe Frossard, dean of the School of Arts and Sciences. With characters who strive for transformative change and who criticize authoritarian rule, the play easily evokes the political and social tumult currently rippling across the Arab world. "The grant will give Lebanon and Arab culture the best possible exposure in the U.S. and the wider world," said Frossard. Saab added she hoped the performances "contribute to furthering dialogue between the Arab and American publics."
Actors will be cast from both AUB and LAU. Performances will be staged at LAU in 2013, while panel discussions on the play's themes will be held at AUB and at the Silk Road Rising Theater. The grant essentially allows for "a mini-Wannus festival," said Saab.
Wannus' play will be the third time that Myers and Saab have worked together. The professors previously translated and adapted Hamam Baghdadi (Baghdadi Bath) by the Iraqi playwright Jawad Al Assadi, and Al Diktator (The Dictator) by Lebanese playwright Issam Mahfouz.
In addition, Saab and Myers have authored an article about the play. "Sufism and Shakespeare: The Poetics of Personal and Political Transformation in Saadallah Wannous' Touqous Al-Isharat wal-Tahawulat will be published in February 2013 in Theater Research International.
"We live now in a world where academic institutions cannot progress in isolation," said Dr. Vahid Behmardi, chair of the Department of Humanities and who supported the grant proposal. "It was the collaboration between Dr. Saab and AUB Professor Robert Myers that resulted in this remarkable grant."