LAU's School of Pharmacy enters an exciting new phase, launching a student society and opening opportunities to students beyond graduation.
The Center for Lebanese Heritage examines its national treasure: amber.
The first Arabic-speaking community in the U.S. lies just a few meters from Ground Zero in New York. Witness the battle to save "Little Syria", home to many Arabic-speaking newspapers and magazines, eastern Christian churches and small businesses.
Fall 2013
Holiday: Christmas and New Year

Dec 24, 2013–Jan 6, 2014

Classes resume on January 7 at 8:00 a.m.

 

Holiday: Armenian Christmas

Jan 6, 2014

Advising for current students

Jan 7–10, 2014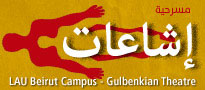 Fall Major Production: "Rumors"
Dec 11–18, 2013 8:30 PM
Gulbenkian Theatre