LAU civil engineering graduate student represents Lebanon on world stage at Connect Asia-Pacific Summit 2013 in Bangkok, Thailand.
LAU's School of Pharmacy enters an exciting new phase, launching a student society and opening opportunities to students beyond graduation.
The obsession with Beirut is well known in Arab creative circles and finds its greatest potency in contemporary Lebanese literature. Find out how the city has captured the imagination of the region's most prominent poets and literary giants.
Fall 2013
Holiday: Christmas and New Year

Dec 24, 2013–Jan 6, 2014

Classes resume on January 7 at 8:00 a.m.

 

Holiday: Armenian Christmas

Jan 6, 2014

Advising for current students

Jan 7–10, 2014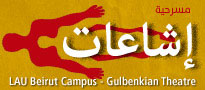 Fall Major Production: "Rumors"
Dec 11–18, 2013 8:30 PM
Gulbenkian Theatre