The Red Cross Club invites the LAU community to "Sing for Humanity".
Students serenade the crowd in the spring music production Jazz in the Living Room.
The School of Engineering grants undergraduate students the possibility to conduct research alongside faculty members.
An enterprising project incorporating LAU's Urban Planning Institute brings the Umayyad Dynasty into the limelight.
LAU trustee Cherilyn Murer talks about the challenges and opportunities for women climbing the social and professional ladder.
Holiday: Liberation Day

May 25, 2016

Classes end for Year II medical students

May 27, 2016

Classes end for Year III medical students

May 29, 2016

Classes begin for Year IV medical students (2016-2017)

May 30, 2016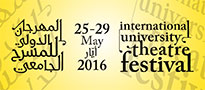 LAU 18th International University Theatre Festival 2016
May 25–29, 2016 7:00 PM–10:00 PM
Gulbenkian & Irwin Theatres, Beirut campus