Photo: As part of the Outreach and Corporate Visits (OCV) initiative at LAU, USP scholars visited the Children's Cancer Center
The LAU community rallies once again for its mid-term review by CIHE-NEASC.
SOP's Wissam Kabbara looks into stopping antibiotic resistance.
The School of Arts and Sciences summer camps give aspiring academics a chance to learn more about their favorite subjects.
Early advising and registration for new students for fall 2018

Jul 16–23, 2018

Registration for freshman students accepted in a program

Aug 13, 2018

Advising & registration for new students and returnees for fall 2018

Aug 14–17, 2018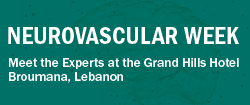 Neurovascular Week
Jul 22–27, 2018 8:00 AM
Beirut, Lebanon