Photography instructor Bassam Lahoud teaches students to freeze movement.
Students at work in the new fashion design studio.
In pictures —
LAU's budding designers visit the Elie Saab boutique and workshop and benefit from the internationally renowned couturier's advice.
In pictures —
For the first time in the region's history, LAU brings together medical professionals to discuss how to improve medical education in order to enhance patient safety.

Fall 2014
Six young and talented graduates of LAU 's architecture program are this year pursuing postgraduate studies at high profile universities in the U.S.A. and U.K. We unfold the reasons behind their decision.
Advising for current students for spring 2015

Dec 3–19, 2014

Last day for intercampus transfer for spring 2015 for all students

Dec 11, 2014

See the Academic Rules and Procedures:

Registration for current students for spring 2015

Dec 15–19, 2014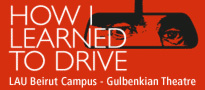 Major Theatre Production: "How I Learned to Drive"
Dec 4–13, 2014 8:30 PM
Gulbenkian Theatre, Beirut campus