Sinarc students hiking to the highest peak in Jabal el Makmal.
Labor Minister Sejean Azzi gives a lecture on the challenges of the Lebanese job market at LAU.
The LAU-UNESCO Youth Coding Initiative familiarizes students with computing and programming skills in a bid to integrate those into academic curricula taught in Lebanese schools.
Three historical political figures of the Palestinian resistance are brought together on stage by LAU faculty, students and graduates, for the first time since 1971.
Advising for current students for spring 2016

Nov 17, 2015–Dec 4, 2015

Registration for current students for spring 2016

Nov 30, 2015–Dec 4, 2015

Fall 2015 classes end

Dec 10, 2015

Fall 2015 final exams

Dec 12–22, 2015

Holiday: Christmas and New Year holiday starts

Dec 24, 2015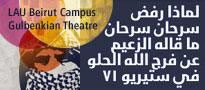 Major Theatre Production: "Limaza…"
Nov 20–28, 2015 8:30 PM
Gulbenkian Theatre, Beirut campus