Students and graduates take part in a global survey to gauge their perception of their university.
CLS calls for a more inclusive education system for Syrian and Lebanese children in public schools.
Drawing on its expertise and innovations, the university will help boost the ministry's digital operations.
Phase 2 - Registration for fall 2018 for continuing students

Jul 2–6, 2018

Last day for withdrawal from summer 2018 (WP/WF)

Jul 3, 2018

Classes end for Years I & II MD students

Jul 10, 2018
Summer Camp 2018

The Continuing Education Program's summer camp for children starts on July 9.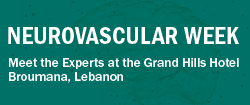 Neurovascular Week
Jul 22–27, 2018 8:00 AM
Beirut, Lebanon