A medical student and poet
Helping revive Arab literature and poetry through his writing, LAU medical student Hadi Mourad holds book signing at the university's Byblos campus.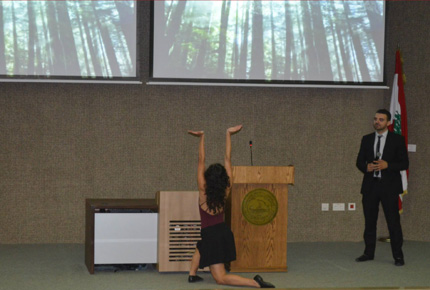 Summer is not always about closing books and heading to the beach. It certainly isn't for LAU medical student and multi-talented artist Hadi Mourad, who has just published a collection of his poetry in a new book entitled "Kama Yakaa' al Tufah" (How Apples Fall). Students and colleagues from all the university's different schools, as well as from beyond LAU turned up to his book-signing ceremony held at LAU Byblos on June 26.
Dr. Sola Bahous, assistant dean at the School of Medicine, as well as an accomplished artist and practicing nephrologist, reminded the audience of the importance of arts in the field of medicine – something Mourad believes is a crucial combination whatever the discipline.
"People can combine their talent with their field of study," he explains. "It is not necessary that a poet study literature or a painter painting. It is only essential that this passion comes from the heart, then you can start to build and nurture it yourself."
Mourad says he gets offended every time he is asked, "How do you study medicine and still have the time to write poetry, compose music, sing in concerts and be a standup comedian?" His answer is always the same: "We are humans, not robots sacrificing the whole day to work or study, we need to rest and spend our leisure time on things we enjoy and that fulfill us. We have to expel the energy we store deep inside of us while actually creating a new free space within that helps us handle and absorb the negative energy from other sources of our life."
Renowned actor and director George Khabbaz, also present, expressed pride in the people who produce and give despite obstacles the region and Lebanon are facing. Of Mourad, he says, "What we need are people who provide this planet with some balance, and Hadi is an excellent example of this."
Mourad credits Dr. Nidale Daccache, assistant professor in the Department of Humanities, as an inspiration. The student's advice, "By managing your time carefully and giving every duty its due, you can reach perfection. Be stubborn, determined and passionate, and always love what you do."