A Parisian vernissage for LAU's fashion designers
French brand Bensimon exhibits LAU students' work in the capital of fashion.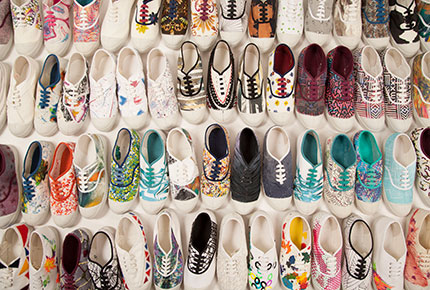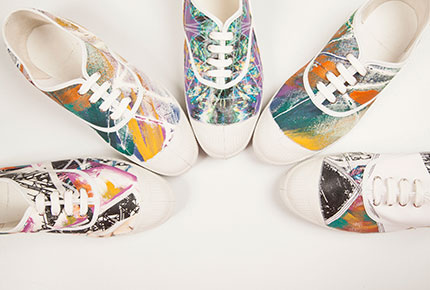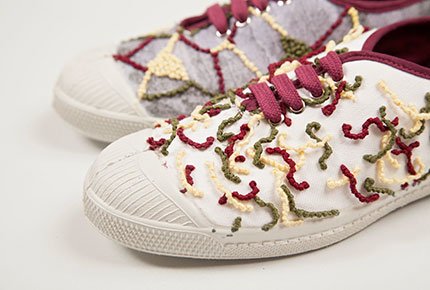 "Serge Bensimon was delighted by the quality and breadth of our students' design ideas, so much so he had goose bumps on seeing the collection," says Jason Steel, assistant professor at LAU's B.A. in Fashion Design, referring to one of the two brothers who own Maison Bensimon.
The collaboration between LAU and the French lifestyle brand — famous worldwide for its canvas tennis shoes — started within the framework of an academic final year project. The company provided plain canvas shoes for each student to design up to five models revolving around the theme of crystals.
"We thought it would be a good learning opportunity, but we did not expect that it would turn into such a big thing," says fashion design student Nathalie Saad.
In an unprecedented move, Bensimon organized a vernissage in the company's store in Paris to showcase LAU's innovative interpretation of its brand identity. "On seeing the exhibition, a number of clients thought the shoes were for sale, and this is a great sign of things to come," says Steel.
The partnership was made possible by Maya Mroueh, Bensimon's agent in Lebanon, who persuaded the company to give LAU students their well-deserved chance. "It is the first time Bensimon decides to exhibit the work of university students, even though they have many European academic institution working on designs for their products," she says. "LAU has shown that Lebanon can live up to European standards."
Each design was realized by experimenting and applying a variety of techniques, from laminating fabrics together to digital and textile manipulation. The project also gave students hands-on experience in designing for a brand and combining one's personal creative identity with commercial realities.
"While everyone brought its own personality into their work, the thorough product analysis we conducted before starting our work allowed our collection to have a common line," explains Saad.
While Saad's models reflect her love for the bohemian style, her colleague Layal Kazma experimented with gold and hand paint. "This experience opened up for us a new perspective on fashion design," Kazma says. "At first you only think of clothes, but working with Bensimon made us aware of how much can be done with shoes and accessories."
Each of the 19 students who took part in the project contributed with their own creative approach, while keeping in mind the target market.
"The word 'commercial' is seen by many as a dirty word," says Steel. "We would be very surprised if Elie Saab started making school uniforms because it would be so out of character. Branding is essential within the design process," he adds.
According to Kazma, having a tutor with a realistic approach to the fashion industry made her realize the foremost importance of the research phase, rather than the creative process itself.
"We gained inspiration during the research phase and only later we started creating our own designs," she says. "Having the approval of such a huge brand like Bensimon gave us confidence in our work. Now we know that we can set our goals high, and accomplish them."