A picture of dedication: Dr. Layla Nimah retires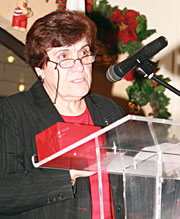 Nimah gives a farewell speech.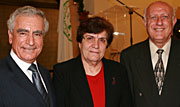 Dr. Joseph Jabbra and President Emeritus Riyad Nassar with Dr. Layla Nimah.
March 11, 2008—
Following 30 years of committed service, Dr. Layla T. Nimah, Vice President for Student Development and Enrollment Management, retired at the end of 2007.
Nimah, a champion of student-centeredness, was also considered a motherly figure by students and a friend by many of her colleagues. "Her legacy will forever be cherished in the hearts and minds of those who had the privilege of working closely with her," says long-time friend Dr. Cedar Mansour, Special Assistant to the President and General Counsel.
Byblos Dean of Students Mars Semaan said that she unified both LAU campuses, creating "a cohesive team that could butt heads with any equivalent team and outdo it."
Dr. Tarek Na'was, Dean of Students in Beirut, said that, to her credit, "LAU now has a solid base of very organized offices on both campuses," referring to the student services area. "The difficult task is done, we are only making the final touches," he added.
The student service-oriented approach advocated by Nimah brought about a series of developments in the university. Some of them included orientation programs for new Lebanese and international students; the "Banner" system for registering, checking grades, and reviewing account charges; the promotion of athletics events; etc.
Nimah also spearheaded the Model UN program at LAU, a unique initiative in the region. Her latest achievement was the establishment of the University Student Council and Campus Student Councils last year. These councils will allow students to be involved more actively in some aspects of university and campus life that are of particular interest to them.
Holding degrees in mathematics from the Lebanese University and the University of Paris, and a Ph.D. in Solid-State Physics from Utah State University, Nimah started her administrative career at LAU (then BUC) as an Assistant Dean in the Beirut campus in 1992. Then she served as Academic Dean of the same campus for two years. Later, she was appointed Vice President for Student Affairs and took on her last position in 2005. Besides her administrative experience at LAU, she also held a position as the principal of St. Mary's Orthodox College in Beirut in the 1980s.
Although she is known mostly for these administrative endeavors, Nimah was particularly fond of teaching. In a 1999 interview for the LAU Magazine & Alumni Bulletin, she said that she missed "teaching a lot because that's where you really have contact with students and have first-hand experience in problem solving."
Nimah is considered by many to be a trusted and honest colleague, a faithful friend, a motivator with tremendous management skills, and a role model. Throughout her career at LAU, she created a family-like atmosphere and supported her co-workers in times of need. Colleagues also point out that she stood up to challenges by remaining calm, thinking clearly and making rational decisions.
Through her dedicated work, Nimah left her unique mark on the advancement of LAU's core values of "student-centeredness," "education of the whole person" and "formation of students as future leaders in a diverse world."