A rite of passage: the white coat ceremony
The Gilbert and Rose-Marie Chagoury School of Medicine holds its 2nd annual white coat ceremony.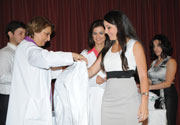 Nagham Faris receives her white coat from Dr. Zeinat Hijazi, associate dean for medical education.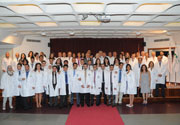 By donning the white coat the medical students mark their entry into clinical rotations.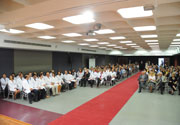 The event was hosted at the University Medical Center - Rizk Hospital in the presence of the students' friends and family.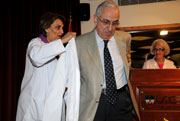 Dr. Abdallah Sfeir, LAU's outgoing provost, was surprised with an honorary white coat.
Click on any photo above to view all four images.
The Gilbert and Rose-Marie Chagoury School of Medicine held its 2012 white coat ceremony on June 22; celebrating a second generation of medical students making the leap to clinical rotations—an important watershed on the path to becoming full-fledged physicians.
The event, hosted at the University Medical Center- Rizk Hospital, is a rite of passage for medical students who, in the presence of beaming friends and family, are escorted by one of their instructors to the stage and cloaked in a ceremonial white coat.
By donning the white coat the medical students make an unspoken vow to put the interests of their patients before their own.
Dr. Lynn Eckhert, interim dean of LAU's School of Medicine, encouraged the students to always endeavor to be worthy of the respect bestowed upon physicians in society.
"Read, question, and read," advises Eckhert, reminding the budding doctors that their chosen career path entails life-long learning.
In addition, she cautions that commitment to academic excellence is only one part of the equation, arguing that the human element—caring and empathizing with the patient is of principal importance.
"Being a physician is less about curing people as it is about caring for people," Eckhert said.
"Welcome to clinical rotations, a place where people other than your mom and dad call you doctor," Sara Araji, a third year medical student who earned her white coat last year, said triggering laughter among the audience.
Araji then described clinical rotations as a time when indeed "the patient's care takes a central role—this is a world where your time is not your own."
Stressing the importance of comradeship, Araji offers advice to the younger generation of medical students, recommending they remain close "through thick and thin" and to never allow competition to jeopardize their personal relationships.
Indeed, the students' close bonds and camaraderie were clearly on display as each took to the stage amidst enthusiastic cheering from classmates.
The cheering was just as fervent when Dr. Abdallah Sfeir, LAU's outgoing provost, was honored with a white coat as a token of appreciation for his championing of the nascent medical school.
Dr. Mary Deeb, an associate professor at the School of Medicine, who emceed the event, explained that the white coat ceremony is also an important milestone for LAU's young medical school considering the newly renovated university's medical center.
LAU Medical Center–Rizk Hospital, the primary LAU-affiliated clinical teaching and research facility, will allow LAU students an opportunity to gain practical training. Like other top medical facilities around the world, LAU's School of Medicine is striving to be more responsive to the communities in which they practice.
As a result, LAU Medical Center–Rizk Hospital has undergone a comprehensive transformation equipped with state-of-the-art equipment to attract and retain the top physicians in the country.
Resolve to practice medicine in Lebanon was in fact expressed by several of the medical students honored in the event.
"I plan to stay and work in Lebanon, this is my country" says Mohammad Khalife, a medical student who describes the white coat ceremony as "a dream come true."
A similar sentiment is echoed by fellow student Nagham Faris, who says, "I am considering staying in Lebanon, I want to serve my community."
Attributes of empathy and selflessness as well as a desire to serve the community are all character traits that are upheld as the tenets of medical excellence in the white coat ceremony.