Driving the Future: Students prepare for eco-vehicle competition
A workshop led by a seasoned Shell Eco-marathon technical leader gives LAU engineering students the boost they will need to compete in July's electric vehicle race in Malaysia.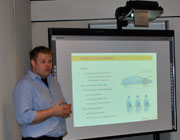 Shell Eco-marathon technical leader Norman Koch gives students some pointers during the workshop at LAU Beirut.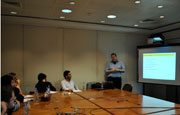 Around 20 students and professors from the School of Engineering learn more about the Shell Eco-marathon competition during Koch's workshop.
Click on either of the photos above to view both images.
A team of nine engineering students is making an electric vehicle prototype to enter the Shell Eco-marathon Asia competition this summer.
Amanda Youssef, the smallest team member, will pilot the car at the Sepang Formula One racetrack in Kuala Lumpur next July.
The first prize will go to the most fuel-efficient vehicle. Last year's winner achieved 1,522 kilometers/liter (or 3,580 miles/gallon).
With its emphasis on environment-friendly innovation, the event is an ideal venue for students from LAU's Industrial and Mechanical Engineering department, a keen advocate of green technologies.
"As mechanical engineers, we need to provide solutions to the global problem of energy consumption," says fourth-year mechanical engineering major Michel Abi Akl. "In 20 or 30 years it will be too late," he added.
Seasoned Eco-marathon technical leader Norman Koch discussed event technicalities during a workshop on January 20 at LAU Beirut. Students listened attentively, garnering expert tips for success. It emerged that contestants must comply with oft-overlooked safety regulations to qualify for competition. Front and rear brake systems must separately immobilize the vehicle on a 20 percent incline, for instance.
The logistics and technical requirements of the competition pose quite a challenge for the nine Byblos-based students, who must take care of designing and manufacturing the car, observing safety regulations, shipping parts and even raising funds to cover the costs of the project.
"The students have to apply everything they have learned on the curriculum," says co-adviser Wassim Habchi. "They also have to interact with the outside world seeking funds, conducting meetings, and presenting their work, which is important for personal development," adds co-adviser Michel Khoury.
Following techniques taught in an elective course on racecar aerodynamics, "we draw the car on the computer and simulate tests using Computational Fluid Dynamics software," says Abi Akl. "We calculate the drag coefficient, then change the height, length and shape of the car accordingly, to optimize our design."
"We do not have as much experience with motor engineering, so the challenge has been researching steering systems and how to make a chassis," says Youssef.
"We are not sure how well the values we calculated on the software will correspond to the actual construction, so we might face some difficulties in the manufacturing stage," she adds.
Habchi points to other hurdles: "The tough part is coordinating shipping, logistics, and communication. We just learned that we cannot ship flammable parts to Malaysia, so we are going to have to find a way to get batteries there."
The project is likely to cost over $40,000, which the team will have to secure before it starts building the vehicle this month.
The tournament has been a tradition at Shell since 1939, when scientists at a research lab wagered to see who could build the most fuel-efficient vehicle.
"We will be participating every year from now on, so future teams will improve on the original design," says Dr. Pierrette Zouein, associate professor of industrial engineering at LAU Byblos and chair of the IME department.
"The Lebanese are not a fuel-efficient people," says Khoury, who envisions a vehicle half the size of a Smart that could one day dominate the streets of Beirut. "It would have solar cells to prevent energy loss and greenhouse gas emissions while stuck in traffic."
Future LAU students could help make his vision a reality.